Arguably the most important part of your home is its exterior envelope. The walls and structure that protects what's inside from the elements. Ensuring that all facets of the exterior are properly sealed and in good working order should take priority over all other home renovations, that is assuming you want those new home renovations to last for any length of time.
Windows are a crucial element of any house, providing illumination, fresh air, and glimpses of the outside world. However, as they are an opening inside this otherwise sealed exterior, they are a common place to find water damage, drafts, or heating loss in the winter.
Over time, windows may deteriorate, lose efficiency, or sustain damage, necessitating window replacement.
Whether you're contemplating the replacement of a single window or upgrading all the windows in your home, this comprehensive window replacement guide will offer valuable insights on pre-replacement preparations, the replacement process itself, and post-replacement considerations.
Before The Window Replacement Process
Assess Your Needs
The first step in any window replacement project is to assess your needs, just as you would in any interior or exterior renovation. Consider why you want to replace your windows. Are they old and inefficient? Do they have damage or rot? Are you looking for improved energy efficiency or enhanced aesthetics? Understanding your reasons for window replacement will help you make informed decisions throughout the process.
Set A Budget
Window replacement can be a significant investment, so setting a budget before starting the project is essential. Consider the cost of the windows, installation, and any additional expenses such as permits or finishing touches. Research the cost of different types of windows and get quotes from multiple contractors to ensure you have a realistic budget in place.
Choose The Right Type Of Window
Double-hung, casement, sliding, and bay windows are just a few of the many window types available. Each type has unique pros and cons regarding functionality, aesthetics, and energy efficiency. It's crucial to consider your specific requirements and personal preferences when determining the right window type for your home. There may be different types of windows recommended (or required by code) in different parts of the country. A window replacement in a dry, cold climate such as Calgary will often require windows with a higher R value than say window replacement Alexandria or Vancouver that typically sees more temperate, but humid weather.
Research Local Regulations And Permits
Before starting the window replacement process, research local regulations and permits required for window installations in your area. Some localities may have specific guidelines or restrictions on the type, size, or placement of windows. Obtaining the necessary permits and adhering to local regulations will help you avoid potential legal issues and ensure that your window replacement is done in compliance with the law.
During The Window Replacement Process
Hire A Qualified Contractor
Window replacement is a multifaceted undertaking that demands skill and expertise. It is imperative to engage a qualified contractor to ensure the installation is carried out precisely and efficiently. Look for contractors with proper licensing, insurance, and reputable standing in the industry. Feel free to request references and conduct thorough online reviews to verify their credentials and track records.
Keep in mind that water damage to your home is often very expensive to remediate, and it's advisable to use a professional who has a proven track record of quality work, as well as insurance to cover any possible unforeseen damage to come from an improper installation or manufacturer's defect in the windows. Should damage occur from you DIYing and replacing windows yourself, your homeowners insurance may not cover the repairs.
Remove And Dispose Of Old Windows Properly
As part of the window replacement process, the old windows will be removed. Proper disposal in accordance with local regulations is crucial. Old windows may contain hazardous materials like lead paint or asbestos, which require special handling and disposal procedures. Collaborate with your contractor to ensure that the old windows are disposed of safely and environmentally responsibly.
If you're upgrading your windows for aesthetic reasons and there are no issues with them regarding leaks, cracks or seals, they may be well suited to be donated to a charity such as Habitat for Humanity.
Consider Energy Efficiency
Replacing your home's windows can increase its energy efficiency. To limit heat transfer and air leakage and lower energy costs while improving comfort, look for windows with excellent energy efficiency ratings, such as those that have earned the Energy Star certification. Maximizing energy efficiency also depends on proper installation, which includes sealing and insulation.
Pay Attention To Finishing Details
Window replacement is not just about the windows themselves but also the finishing details. Consider the style, material, and color of the window frames and the type of window hardware, such as handles and locks. These details can significantly impact your windows' overall aesthetics and functionality, so choose carefully to achieve your home's desired look and functionality.
After The Window Replacement Process
Inspect And Maintain Your New Windows
Once the window replacement process is complete, it's essential to conduct regular inspections and maintenance on your newly installed windows. Proactively identify any signs of damage, such as cracks, leaks, or drafts, and take immediate action to prevent further issues. Humidity build up between panes is an indication that there is an issue with the window seal.
Follow the manufacturer's instructions for proper care and maintenance, and establish a routine for regular window cleaning. Consistent inspection and maintenance are key to preserving the optimal condition of your new windows and experiencing the anticipated benefits in terms of energy efficiency, aesthetics, and functionality.
Update Your Home Security
With new windows installed, now is a good time to review and update your home security measures. Consider installing window locks, security bars, or other security features to enhance your home's safety and security. Consult a security professional to assess your home's vulnerabilities and determine the best security measures.
Enjoy The Benefits Of Window Replacement
Upgrading your windows can bring multiple advantages to your home. Enhanced energy efficiency can lead to lower heating and electricity bills and increased comfort, while improved aesthetics can elevate your home's overall appearance and property value. Embrace the increased natural light, ventilation, and panoramic views provided by new windows. Capitalize on the added value and curb appeal that window replacement can bring to your home.
Keep Records And Warranty Information
After window replacement, it's essential to keep records of the installation, including any warranty information. This includes warranties from the window manufacturer, contractor, and any other parties involved in the installation. Having this information on hand will be helpful in case any issues arise in the future and you need to make a warranty claim or seek assistance from the contractor or manufacturer. Reborn Renovations offers an industry leading 5 year warranty on our exterior renovation work.
Window replacement is a significant home improvement project that requires careful planning, proper installation, and ongoing maintenance. By assessing everything before, during, and after, you can ensure a successful window replacement process. Enjoy the benefits of improved energy efficiency, aesthetics, and functionality that new windows can bring to your home for years.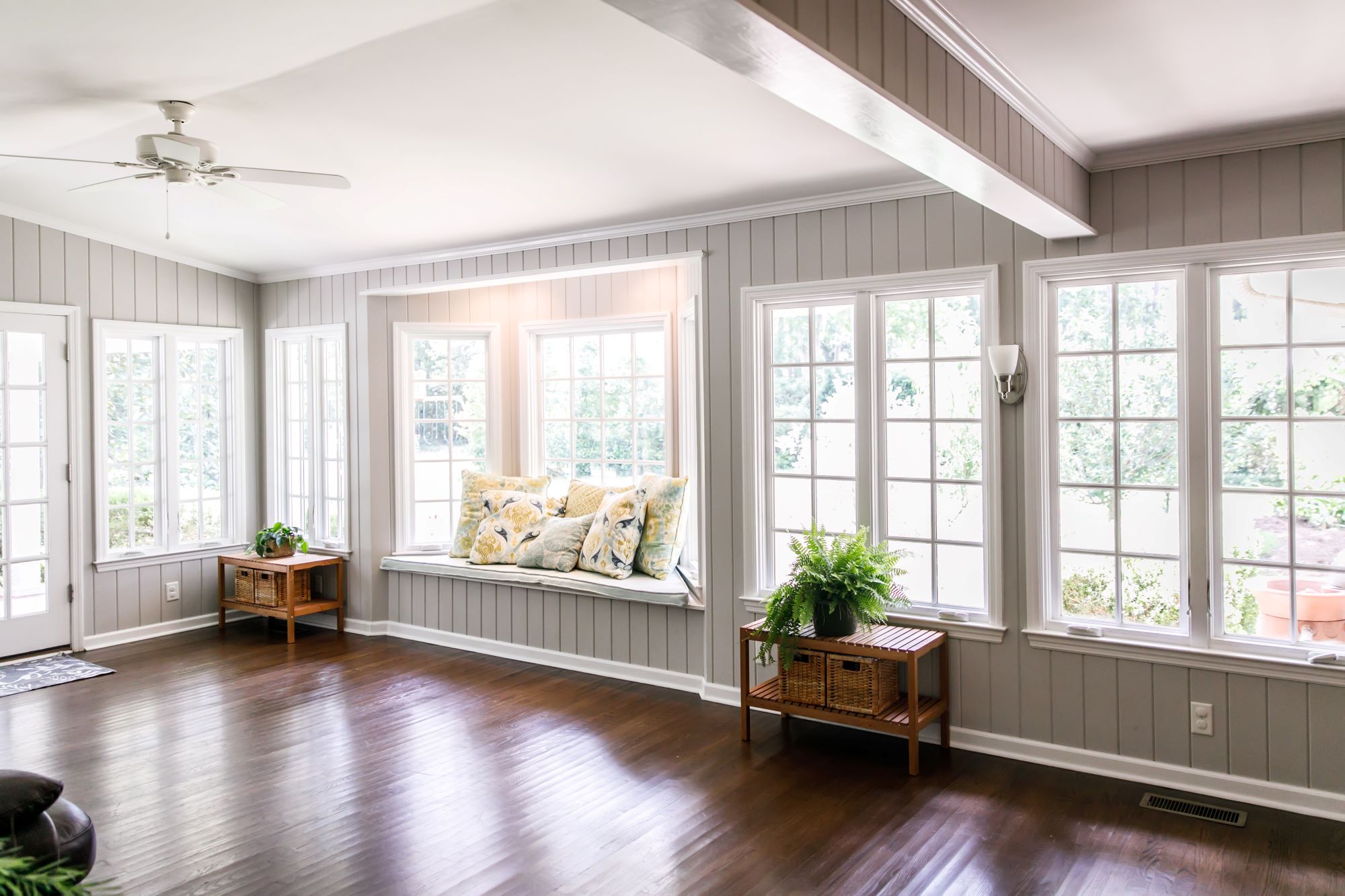 Types Of Windows
When it comes to window replacement, various windows are available. Each type has its features and advantages. Here are some common types of windows for replacement:
Double-Hung Windows
These windows are designed for easy cleaning and convenient ventilation control with dual sliding sashes that move vertically. They are versatile and can complement various home styles.
Sliding Windows
With horizontally sliding sashes, these windows offer effortless operation for opening and closing. They are ideal for spaces with restricted vertical clearance, such as bathrooms or kitchens.
Awning Windows
These windows are hinged at the top and open outward from the bottom, allowing for ventilation even when it's raining. They are perfect for areas where maintaining privacy is a priority while still enjoying a breath of fresh air.
Picture Windows
Picture windows are large fixed windows that do not open. They are purely for aesthetics and provide abundant natural light and unobstructed views. Picture windows are often used in living rooms, dining rooms, or other areas where you want to create a focal point and showcase a view.
Bay Or Bow Windows
Bay or bow windows are large windows that extend outward from the home, creating a bay or bow-shaped space inside. They add architectural interest to the home's exterior and provide additional interior space for seating, storage, or display.
Specialty Windows
These windows come in various shapes, sizes, and styles, such as arched, circle-top, or geometric windows, providing opportunities to add distinctive design elements or match specific architectural aesthetics.
When choosing a window for replacement, assess each type's style, functionality, and energy efficiency. Seeking advice from a window professional or contractor can assist you in selecting the window type that best aligns with your needs.
Things To Remember When Considering Window Replacement
When opting for window replacement, several essential things must be remembered to ensure a successful and smooth process. Here are some key points to remember:
Budget
Determining your budget for window replacement is crucial before starting the process. Consider not only the windows' cost but also the installation cost, any additional features or upgrades you may want, and potential customization options.
It's essential to clearly understand and stick to your budget to avoid overspending and financial strain during the project. Research the costs associated with different window materials, styles, and features, and obtain quotes from multiple window manufacturers and installers to make an informed decision.
It's often recommended to budget an extra 15% to 20% above quoted prices to cover any unexpected issues that may arise during the renovation process.
Material And Style
When choosing windows for your home, it's crucial to consider the material and style that will complement your home's aesthetic, architecture, and maintenance needs. Popular window materials like vinyl, wood, aluminum, and fiberglass have their pros and cons. Consider factors such as durability, maintenance requirements, and how well they fit your home's style.
For example, vinyl windows are low-maintenance and affordable, while wood windows offer a classic and natural look but require more maintenance. Similarly, the style of the windows, such as double-hung, casement, or sliding, should align with the architectural style of your home and your personal preferences.
Professional Installation
The expertise and reputation of the window installation professional or contractor you hire must be considered for your window replacement project. Proper installation is vital in achieving optimal performance, durability, and energy efficiency of the windows.
Research and select a qualified installer who is licensed, insured, and has a good track record of customer satisfaction. Ask for referrals, read reviews, and request detailed quotes from multiple installers to compare their expertise, pricing, and warranties.
Window Features
Along with aesthetics and energy efficiency, consider additional features when picking replacement windows. Window locks and security features can provide added safety and peace of mind, particularly for ground-floor windows.
Enhance ventilation and ease of cleaning with tilt-in sashes or adjustable openings when choosing replacement windows. Also, consider low-maintenance options such as easy-to-clean glass coatings or durable frames.
Warranty
Examine the warranty provided by the window manufacturer and installer. A dependable warranty safeguards your investment and peace of mind. Scrutinize the terms and conditions of the warranty, encompassing coverage for window performance, materials, and installation.
Seek warranties with longer coverage periods and comprehensive protection. Remember that a poorly installed window could nullify the manufacturer's warranty, so professional installation is vital to ensure complete warranty coverage.
Proper Measurements
Obtaining accurate measurements of your existing windows is crucial before ordering replacement windows. Inaccurate measurements can lead to ill-fitting windows that perform poorly or necessitate additional adjustments, causing delays and added expenses.
Precise measurements of your window openings' width, height, and depth are essential for well-fitting replacement windows. If you need more confidence in taking exact measurements, consider hiring a professional window installer to guarantee the best results.
Timing And Scheduling
Contemplate the timing and scheduling of your window replacement project, steering clear of extreme weather conditions or busy seasons for window installers. This approach will help ensure a seamless and prompt installation process while maintaining work quality. Collaborate with your installer to minimize delays or unforeseen repairs.
Proper Disposal Of Old Windows
Finally, take into account the appropriate disposal of your old windows. Window replacement generates waste, and it's vital to guarantee that the old windows are discarded responsibly. Investigate local regulations for disposal options, such as recycling or proper waste management. Some window manufacturers or installers might offer disposal services as part of their installation package, so ask about this when requesting quotes.
Window replacement is a substantial investment for your home, involving several critical considerations. By heeding these factors, you can ensure a successful window replacement project that enhances your home's energy efficiency, functionality, and visual appeal.
Conclusion
Window replacement is a significant decision that greatly influences your home's comfort, efficiency, and appearance. It demands meticulous planning, research, and attention to detail to guarantee a successful outcome. From establishing a realistic budget and selecting appropriate window materials and styles to adhering to local building codes and collaborating with professional installers, each step plays an integral role in the overall result.
By taking into account all these factors and investing the time to make well-informed decisions, you can transform your home with new windows that not only boost its functionality and energy efficiency but also elevate its aesthetics.
So, proceed with confidence on your window replacement journey, knowing that you've considered all the crucial aspects to achieve a successful outcome for your home. Your new windows will not only enhance your home's comfort and beauty but also deliver lasting benefits for years to come.