Updated April 5 2023
It's easy to fall in love with old houses. They are rich with charm and have amazing character. Often full of unique special features and accent pieces, from crown molding and beadboard to gorgeous hardwood floors and clawfoot tubs; there is something amazing about living in a home with such rich history.
However, there are a few things about older homes that aren't so charming—blue bathtubs or carpet in the bath room, novelty light switches, faux wood paneling, shag carpet, and popcorn ceiling, to name a few. It leaves many homeowners wondering:
How do you modernize an old house?
There are several ways you can achieve a newer look for your abode. Small details can do wonders and breathe new life into the space.
Here we'll break down some of the features that can really make a home feel dated and old, some simple tips for a fresh look, and give you an idea as to how how you go about upgrading these elements.
What can make your house feel old?
Walls
When it comes to modernizing an older home, a coat of paint goes a long way. Faded or cigarette smoke stained paint and walls date your home and can be quite unsightly. Old wallpaper can fade, peel, or have just plain questionable style choices.
A bit of prep work to strip old wallpaper and prepare walls for prime and paint can be an easy change that makes a huge impact on how modern a room feels. There are few more drastic things you can do to change a rooms aesthetics than to change what colour paint is used.
When you're painting, consider adding an accent wall in a moderate size room, such as the dining room, or other space in the home. Using a different colour paint can draw attention to parts of the room, compliment furniture, and generally bring a bit more life and character into the space.
Windows
Windows (and the glass they're made of) have come a long way in the past decades. You can often spot an old house from the street based on its windows. Does it have a cross brace? Are they single pane? Sliding windows? It might be time for an upgrade.
Consider giving your old house some window treatments and installing new. It'll let in more light, look more modern, and help increase the R value of your home and keep your heating and cooling bills down.
Doors
Just like windows. Doors and door handles have changed a lot. Do you have a front door with cracking wood and paint, squeaky hinges and a draft? Are the bed room doors sticky and hard to close with old fashioned door handles and hardware? It might be worth looking to replace them.
Though windows and doors can cost a bit to replace, it is money well spend when the time comes that you look into selling or relocating.
If the overall quality of the doors are in good condition, possibly with a bit of leveling and resetting the hinges, as well as stripping the old paint and applying a new coat might be all you need. Ensure that the door can swing easily without binding, and on exterior doors that there is a good seal around all sides of the door and the frame. Make sure that you're using a paint that is suitable for the material the door is made from, as well as the weather conditions it'll be exposed to.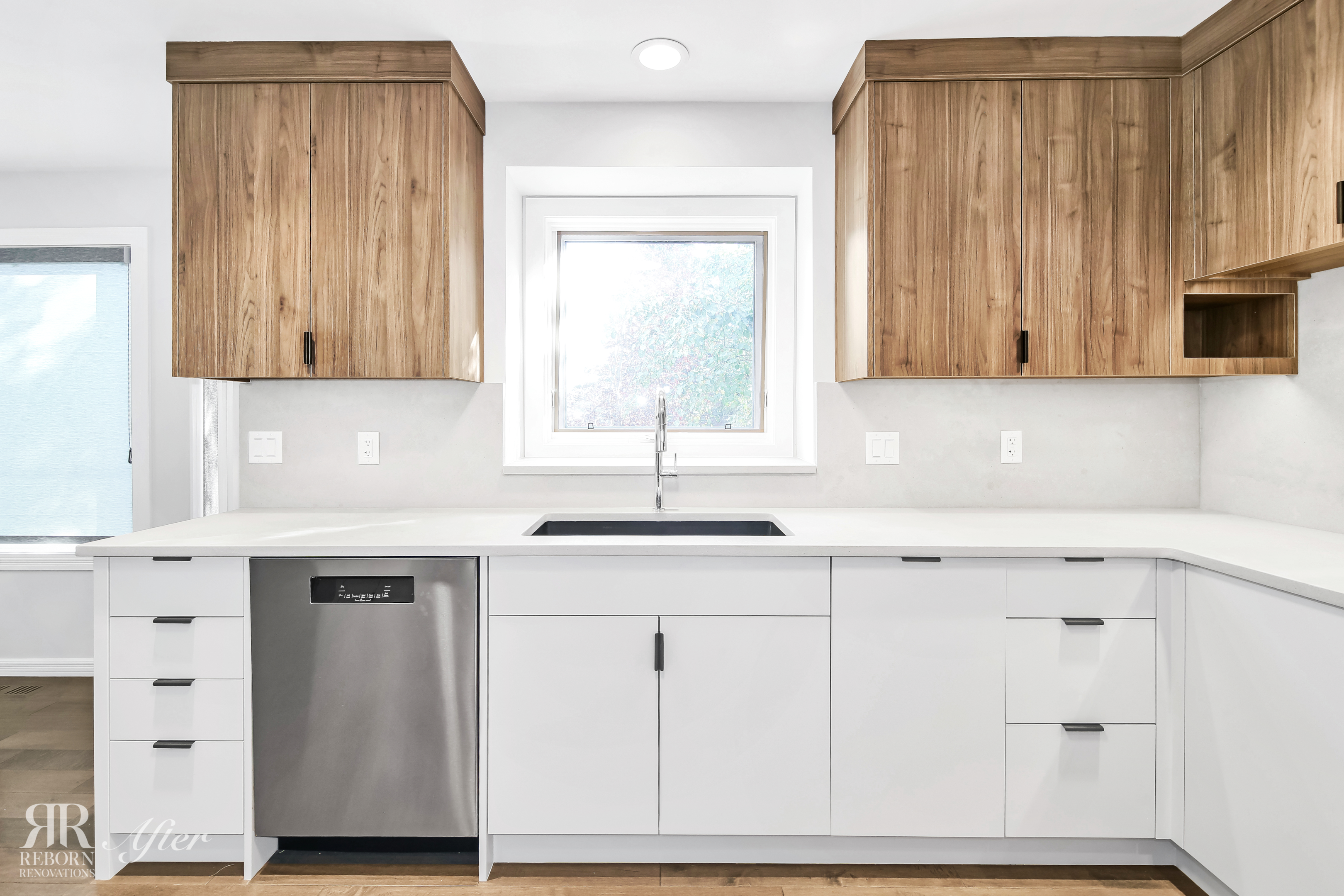 Kitchen Cabinets
Though old cabinets were often made of solid wood, often with amazing craftsmanship, they do show their age through wear and tear, and simple changes in aesthetic trends over the years.
Cabinets are one of the more expensive part of any home remodel, especially if you are looking to replace with all new cabinetry.
However, if you love the look of your cabinets it might be worth looking into the cabinet painting, a process in which the old paint or finish is stripped from the doors, drawer fronts, and boxes and a new paint is sprayed and applied. The results can be drastic, and are much more cost conscious than installing all new custom cabinets.
Paint used for cabinets is different from the paint used in the rest of your home. It is much more durable and scratch resistant. So we don't recommend painting them with paint and primer that you'd use on drywall. The painting is also typically done with a sprayer which leaves a smooth and even coat with no brush lines.
Refacing is another economical option along with painting. This sees you keep the existing cabinet boxes and layout, but a new set of door and drawer fronts are installed in their place. This gives you more customizability to achieve a more modern look than just painting alone.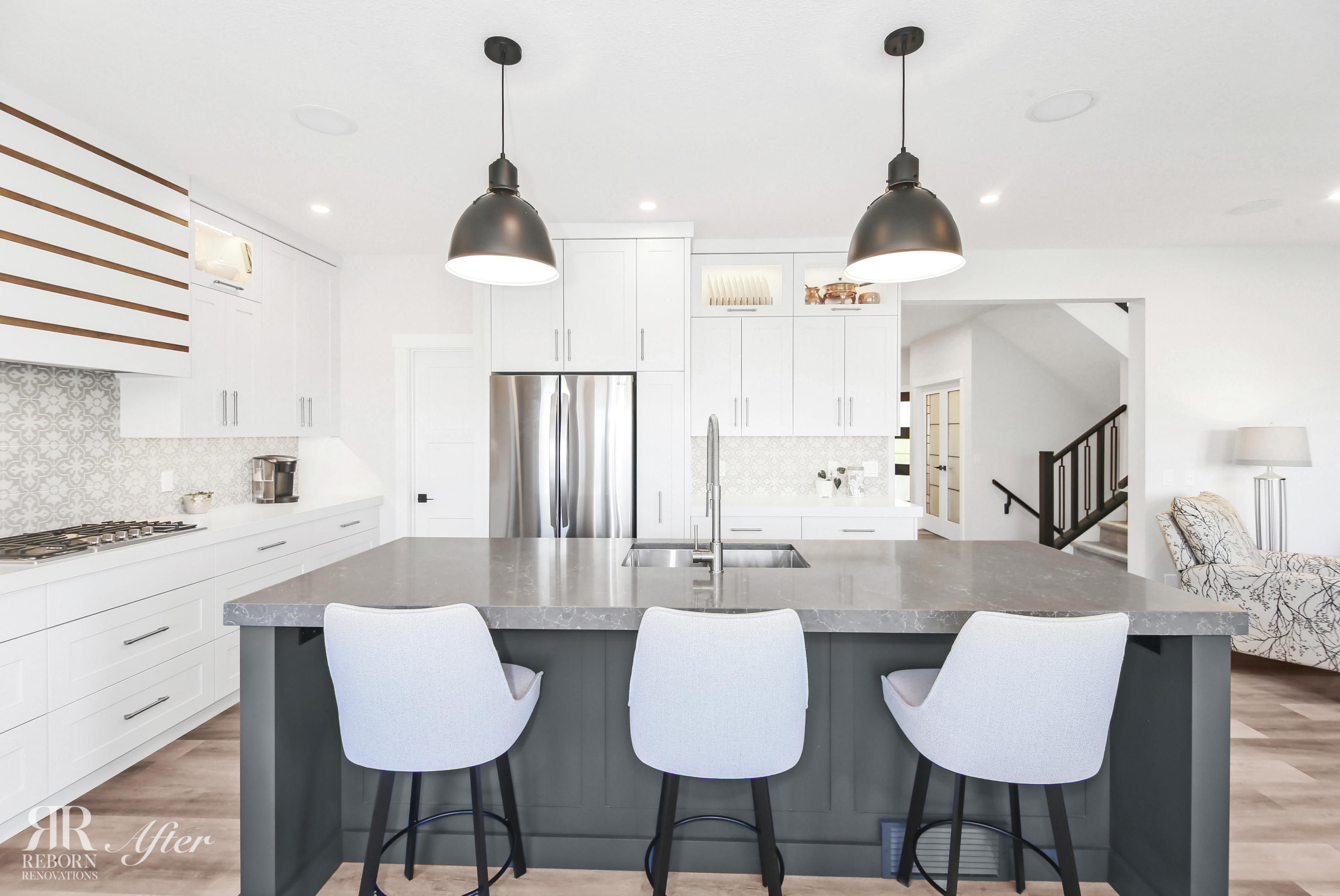 Light Fixtures
Dangly chandeliers, and a dim light fixture in every room are pretty common in an older home. Replacing a light fixture in an older home is a fairly easy task that yields big returns. Simply improving the light in a room can make a whole space feel new even without any other additional changes.
You're able to upgrade to new, brighter lights with lower power consumption and save monthly on your electric bill as well.
Beyond the fixtures themselves, it's an easy swap to replace light switches to a more modern finish. If you're not ready to replace the whole switch or light fixture itself, simply replacing the face plates on light switches and electrical outlets can make a noticeable difference in many rooms.
Ceilings
Does your older home have a popcorn ceiling? Possible a leaky old skylight? The ceiling of your older home is often a give away of its age, and a real detractor when you're looking to breathe new life into the space. If you're on a limited budget and scraping off the old popcorn finish is out of the question, a little paint can help out in some cases, depending on the type of ceiling.
But issues such as leaks, removal or repair of a sky light will have to be dealt with thoroughly by a reputable contractor. The roof is your homes first line of defense against the elements. Ensuring it is remedied properly is key to making sure the investment you're making in modernizing your old home doesn't go to waste.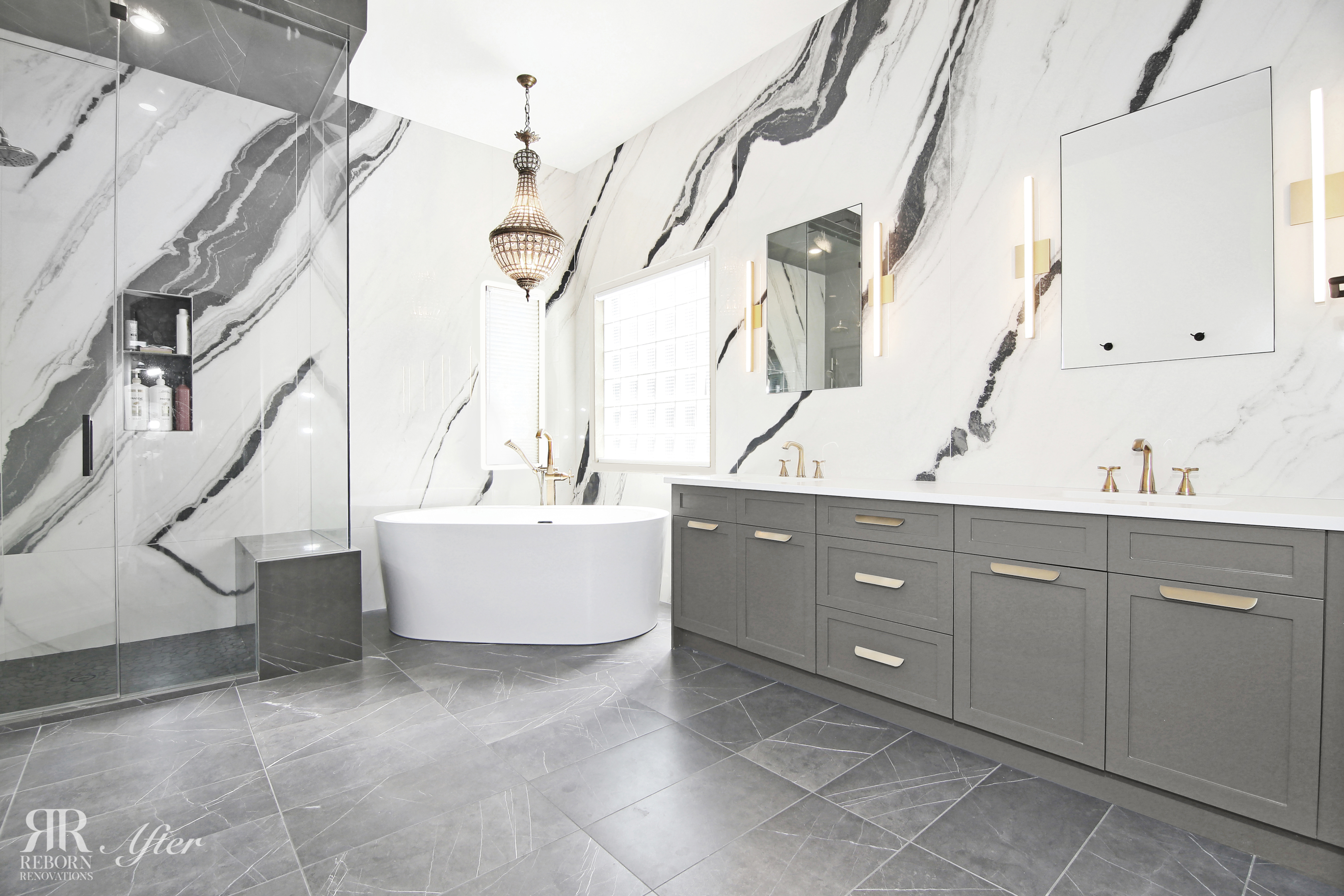 The Bathrooms
The bathroom, ensuite, and any powder room in the home are some of the worst offenders when it comes to making your house feel dated. They're one room that often show their age quite quickly. A bathroom and its fixtures see a lot of use and wear compared to other areas of the home. The flooring will show wear faster than say a laundry room or bedroom, the tub surround or shower stall will often be prone to stains from hard water and rust, paint and walls will often discolour due to high humidity and condensation especially if the bathroom is poorly ventilated.
The bathroom is also one of the most prone areas of the home to develop mold and mildew issues. Many an older home has developed a minute leak, not severe enough to leak through a wall or ceiling and become noticeable, but enough to keep enclosed spaces such as wall cavities damp and turn them into breeding grounds for mold.
Additionally, the aesthetic elements of a bathroom don't stay in style as long as many other spaces in a home. What's trendy when it comes to tile patterns and paint colours can go out of style quite rapidly.
When you're planning a older home remodeling project that seems you making up grades to the bathrooms, try to get a sense or idea as to what elements will both achieve a modern and timeless look. There are so many option when it comes to What fixtures will you replace And be prepared that should you discover mold lurking behind a the tile in your shower stall, you may have to take parts of the room down to structure to remediate the problem.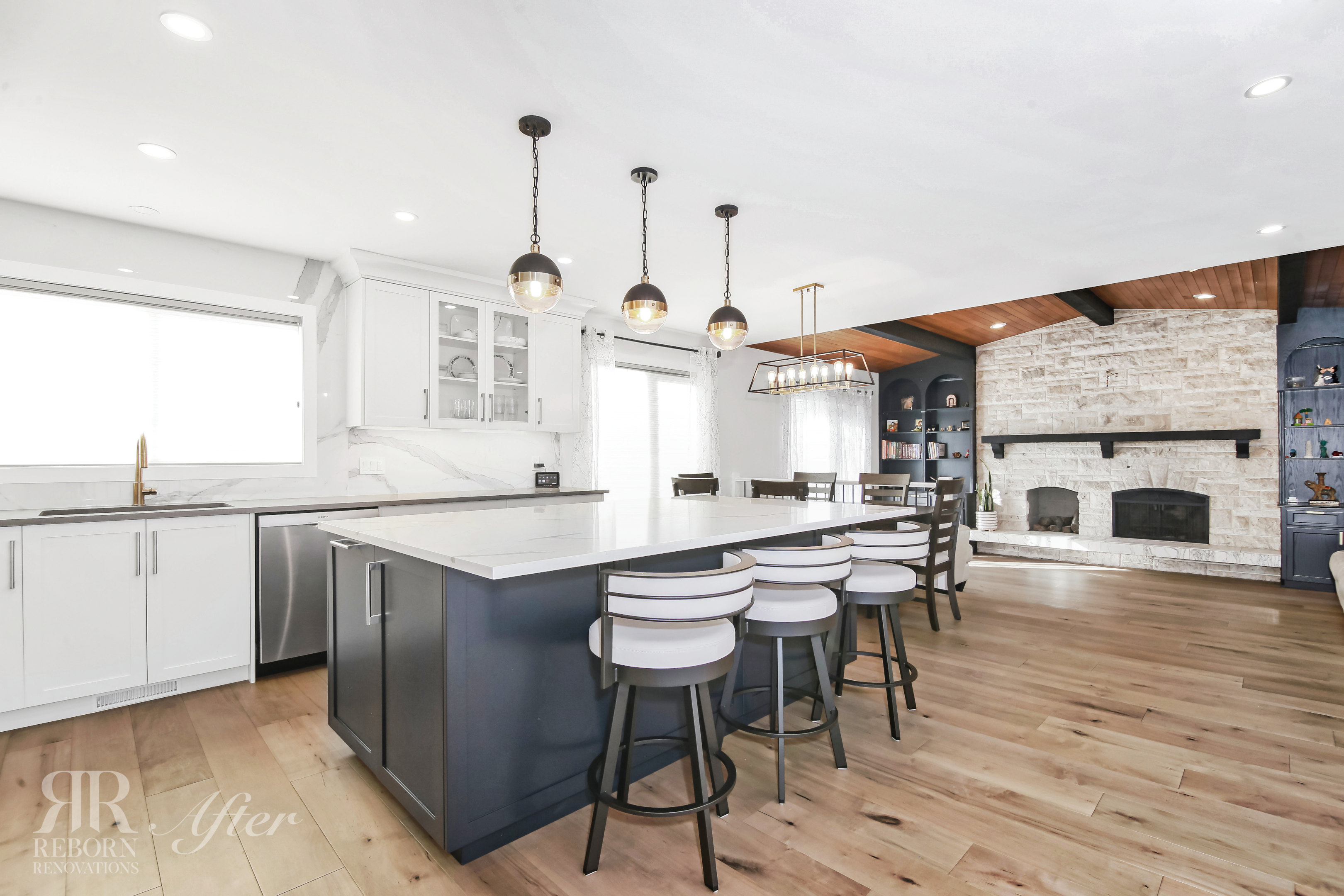 Flooring
Though sometimes an old house has beautiful solid wood floors, you're just as likely to find them with dry, peeling linoleum, cracked or lifting tiles, shag or vibrantly coloured carpet, all of which are a real eye sore that you should replace to create an amazing modern space.
Your new flooring should match both the area of the home it's being installed into, and be durable enough for the task at hand.
Tile or another water resistant flooring is a great choice for spaces like an ensuite or kitchen due to possible spills. While something like cork flooring can be a warm and welcoming choice in some areas, it's best to choose a selection that is durable enough for the function of the room, the traffic it typically sees and the type of furniture you'll have in the room.
Crowded Floor Plans
It's common in an old house to find some larger, grand rooms such as a formal dining room, or front entry seating area, but it's also just as common to find crowded and confusing layouts.
Small galley style kitchens, numerous small bedrooms, and likely a room or two that serves no purpose to you at the present time. Having the house divided like this can be useful for a dedicated purpose-built space such as a craft room, an open floor concept has become much more popular.
What do we think offers the most bang for your buck when it comes to upgrading?
MYMOVE recommends changing hardware in the kitchen and bathroom, replacing outdated light fixtures, and switching window treatments (1). We agree! These minor changes can work to create an open, brighter feel to your space.
Depending on your budget and desired end look, you may also opt for a complete remodel of your old home. The most popular rooms for intensive remodel are the kitchens and bathrooms. Expanding the kitchen or simply reorganizing the layout can make a huge difference (2). In the bathroom, changing the tile and replacing fixtures can help modernize it. Don't forget about the exterior—consider a fresh coat of paint and new outdoor lighting.
Don't underestimate the power of a few of these simpler changes!
You can remodel for modernized energy efficiency, as well. Update appliances, add modern (and energy-saving) conveniences like a dishwasher, ensure your windows are dual-pane, and switch out your fuses for breakers (3). Practical, modern amenities like central air conditioning may be in order, too!
These changes in our opinion will go the furthest when it comes to bringing your home into this decade.
Once you know what you'd like to see in your old house, you might be ready to ask another common question:
Should you remodel the inside or the outside of a home first?
There are two schools of thought here. Some say you should start with the interior because you see it more often than the exterior. If the layout doesn't suit you or you hate the color of your living room walls, it's going to bother you more than what you don't like about your home's exterior.
Most professionals, however, will recommend addressing the outside first. There are a few reasons for this:
Structure
A 2018 Remodelista article emphasizes the importance of having a strong foundation and solid exterior (4). It's no secret that old houses bring unexpected issues. Finding out there is a leak in your roof after you paint interior walls may mean you have to do the same work twice! Get your roof, windows, siding, and foundation in order before focusing on the interior details.
When needing to make structural changes, what was intended to be a simple home remodeling project may turn into a major renovation.
Curb appeal
If you plan to sell your home in the future, make curb appeal a priority. Not only will a beautiful exterior and attractive landscaping help your home attract buyers, but they can also capture the attention of passersby early on in the game. Architect Sarah Susanka agrees that first impressions are vital when it comes to designing a home (5).
Cohesion
The inside and outside of your home should complement each other. Sometimes, it's easier to imagine the colors, fixtures, and layout you'd like for the interior of your home once you're happy with the exterior.
Whether you choose to renovate the interior or exterior first, consider your choices and if they'll create a cohesive overall look and overall feel. But you've still got a long way to go before beginning your project.
What comes first in a home renovation?
Planning
Don't know where to start in a renovation? The first step in any home renovation is planning (6).
Decide which features you love about your home and which features you want to get rid of. Do you want to accentuate your home's age or erase it? Let the realities of your house guide the choices you make. Don't try to force improvements that simply can not work within the envelope of your home. Create a priority list. From there, determine the projects you feel comfortable doing yourself and the projects that will require a contractor.
Contractors
If you find yourself stuck in the planning process, an interior designer may be able invaluable when it comes to making decisions. They know how to modernize an old home, can offer renovation tips, unlock your homes hidden potential . Some larger companies, such as us here at Reborn Renovations, have in house interior designers along side our trades and project managers. Together you and your interior designer can plan your the new look of your entire house. Whether you need to change your home's floor plan, or are working with a more limited budget and just want to make some fairly easy changes to the entire space.
If you're looking to make structural changes to your home, a professional renovation company is a must, both from the standpoint of ensuring a quality end result, but also for the permitting and approval process as major changes will almost always require some form of architectural drawings and engineer approval.
Budgeting
Next comes the all-important step of budgeting. How much are you willing to invest in your old home renovation? Where will you allot the most money? The least? And don't forget to include a buffer amount for unexpected expenses (7).
Especially when it comes to older homes, contractors will always do their best to give a solid estimate, but they don't know what they can't see. Mold? Asbestos? Unsafe wiring? Some things we can't know until we open up a wall or pull up old flooring.
Timeline
Next, you should decide on a timeline. You've likely been asked about a three-year, five-year, or ten-year plan during a job interview or review. The premise is not only "Where do you see yourself in five years?" It's also "How will you get there?"
You must design the same type of plan for your house. Without small, reachable goals, "someday" often becomes "never."
Beyond these first steps to modernizing an old home, the rest is up to you. We've explained why beginning with the exterior might be the right move for you. There are instances, however, when it's not. Maybe you're happy with the exterior. Maybe something indoors is taking priority.
Realty Times puts it beautifully when they say, "The choices are personal, so you have to approach it personally (8)." If you have your vision, goals, timeline, and budget, you're ready to start!
Choose a Calgary Home Contractor with Experience
It always helps to pick a contractor who has experience working on older homes. A lot of older homes can have unexpected surprises that you only find once opening up the walls. You don't want to go with just any contractor down at the local home center.
At Reborn Renovations, we know the differences between old home construction and new home construction. We can seamlessly meld historical aesthetics with modern convenience.
We are able to recognize some common pitfalls, simply because we see old homes every day. We're familiar with potential problems, such as harmful building materials that may be present and common areas of deterioration.
Reborn Renovations is also an excellent choice for your older home remodel because we provide one-stop shopping. One call connects you with builders, designers, showrooms, contractors, sub-contractors, and even a restoration team.
Whether you want your old home to look brand new, or you want the old character with the comfort of new, Reborn Renovations has the crew and knowledge to make your home dreams reality.
Get in touch with us today to discuss your project!
Sources