Throughout most of the country, the basement is the room in the house that gets the least amount of attention. Yet, for many homeowners, the basement has so much potential. With so much room, basements offer infinite possibilities for homeowners looking to add extra living space, storage, or even a home office or gym.
Before you can start planning your dream basement renovation, there are a few things you need to take into account. This guide will cover everything you need to know about redoing your basement, from waterproofing and insulation to flooring and layout.
Reasons to Redo Your Basement
There are plenty of reasons you might want to redo your basement. Here are a few of the most common:
1. Additional living space
If your home feels cramped and you're longing for more living space, consider finishing your basement. This can be an especially cost-effective way to add living space, since you're starting with an existing structure.
Depending on the size of your basement, you could end up with an expansive new living area. For example, if your basement is the same size as your home's ground floor, you could effectively double your living space by finishing the basement.
2. Add recreational space
A finished basement can be the perfect spot for new home additions such as a gym, pool table, entertainment area, or any kind of recreational area. If you have kids, a basement playroom can give them their own space to play and explore without taking away from the rest of your house. Some homeowners even add home gyms, bowling alleys, or indoor pools to their basements.
3. Rental space
If you build out your basement to make it livable, you could rent it out as an apartment or in-law suite. This can be a great way to bring in extra income, especially if you live in an area with high rental demand.
Before you start planning your basement rental, though, make sure to check your local zoning laws. Some areas have restrictions on renting out basement space due to safety concerns. When remodeling your basement, you should also consider what elements it would need to be considered livable space, such as a kitchen, bathroom, and separate entrance.
4. Increase the value of your home
A finished basement can also increase the resale value of your home. On average, a basement refinish adds about 70% of the project's cost to the value of your home. If you spend $20,000 on your basement remodel, you could see an increase of $14,000 in your home's resale value. Of course, this will vary depending on the quality of the finish and the housing market in your area.
5. Extra storage space
If your home is lacking storage, a basement can be the perfect solution. You can add cabinets, shelves, and closets to store everything from holiday decorations to out-of-season clothes.
You could even build a wine cellar or basement workshop for all your hobby supplies. Just make sure to keep your basement storage dry and free of mold and mildew so that these things don't end up ruined.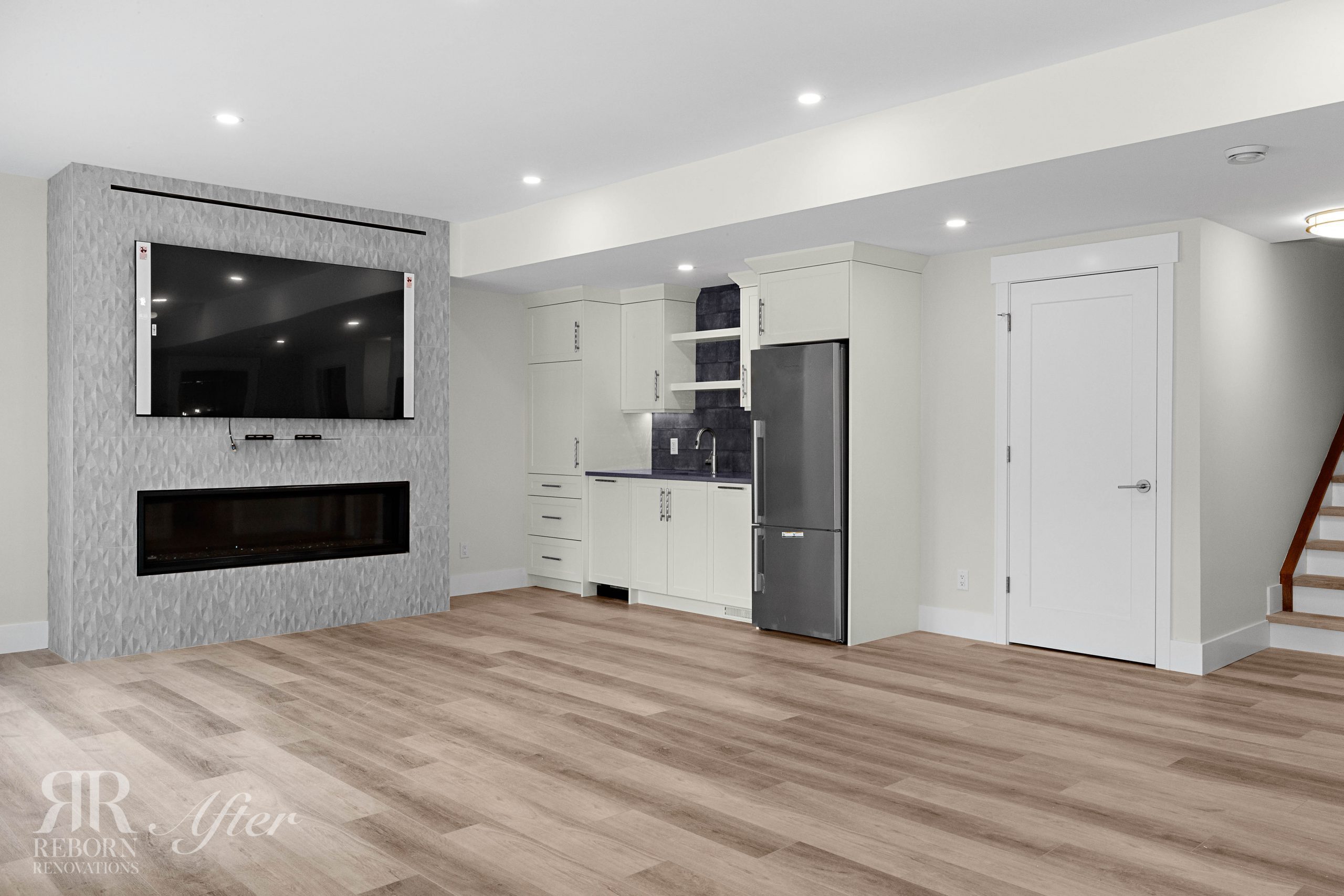 Steps to Take Before You Start
If you're ready to start planning your basement renovation, here are a few steps to take before you begin:
1. Check for Water Damage
The first thing you'll want to do is check your basement for any signs of water damage. Look for cracks in the foundation, peeling paint, or any other evidence of moisture. If you find any water damage, you'll need to address this before you start your renovation. Otherwise, you could end up with even more damage or mold growth.
2. Get a Professional Inspection
If you're not sure whether your basement has water damage, it's a good idea to get a professional inspection. A qualified inspector will be able to tell you whether there's any damage and what needs to be fixed. They can also check for things like mold, mildew, and asbestos that you might not be able to see. Once you know what needs to be fixed, you can start planning your repair and renovation.
3. Create a Basic Plan
There's a good chance you'll hire contractors to help you with your basement renovation. Before you do, it's a good idea to have a basic plan in place. Start by deciding what you want to use the space for. Then, sketch out a rough layout of how you want the finished space to look. This will give contractors an idea of what you're hoping to achieve and help them give you an accurate estimate.
4. Get Multiple Estimates
After you've created a basic plan, it's time to start getting estimates from contractors. When you're meeting with contractors, be sure to ask about their experience with basement renovations. It's also a good idea to get multiple estimates so that you can compare prices and find the best deal. Once you've found a contractor you're happy with, you can start planning your renovation in more detail.
Choosing the Right Contractor for the Job
When you're ready to start your basement renovation, choosing the right contractor is important. Here are a few things to look for:
Experience: Make sure your contractor has experience with basement renovations. This will help ensure that they know how to properly waterproof and insulate your space.
References: Ask your contractor for references from past clients. This will give you an idea of their workmanship and whether they're easy to work with.
Licensing and insurance: Be sure to check that your contractor is licensed and insured. This will protect you in case of any accidents or damage during the renovation process.
It is also best to have a contract outlining the project's scope of work and cost. This will help ensure that both you and your contractor are on the same page and there are no surprises down the road.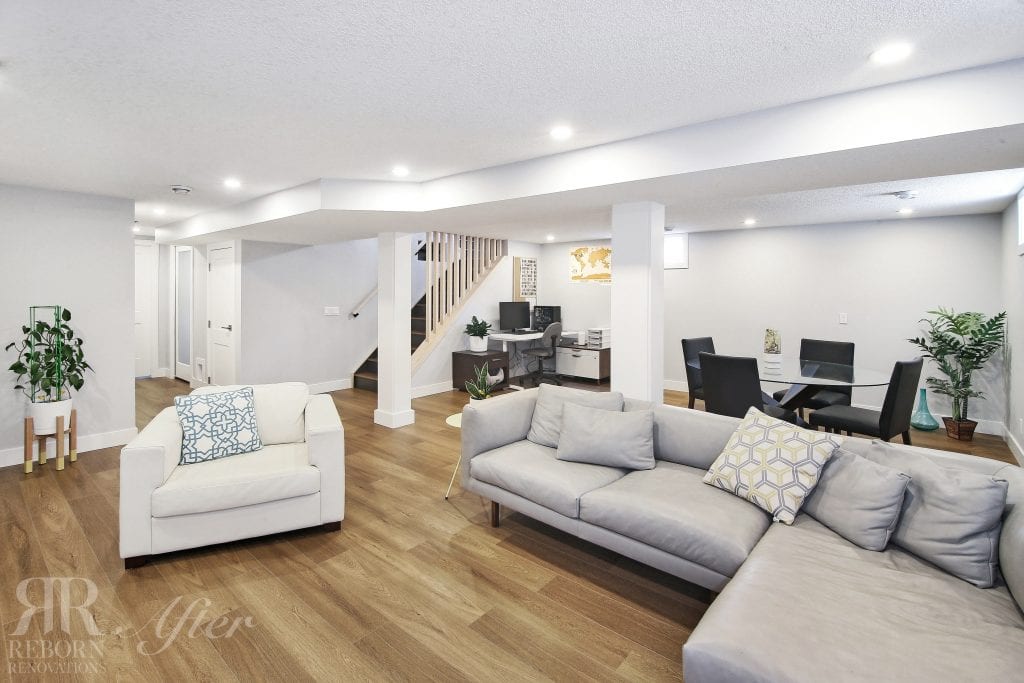 The Basement Renovation Process
The process of renovating your basement takes a few steps:
Waterproofing and insulation
Framing
Drywall
Flooring
Ceiling
Electrical and plumbing
Finishing touches
Waterproofing and Insulation
The first step to any basement renovation is ensuring the space is properly waterproofed and insulated. This will help protect your home from water damage and keep the space warm in the winter and cool in the summer. There are a few different ways to waterproof your basement. A few of the most common are:
Exterior waterproofing: This involves excavating the soil around your foundation and installing a drainage system.
Interior waterproofing: This involves sealing the cracks in your foundation and walls with a waterproof sealant.
Sump pump: This is a pump that helps remove water from your basement before it can cause damage.
When it comes to insulation, there are a few different options. The type of insulation you choose will depend on your climate and budget. Some common types of insulation are:
Fiberglass batts: This is a type of fiberglass insulation that comes in pre-cut lengths. It's one of the most affordable options but it can be difficult to install.
Spray foam: This is a type of insulation that's sprayed onto your basement walls. It's more expensive than fiberglass batts but it's easier to install and provides better coverage.
Rigid foam boards: This is a type of insulation that comes in sheets or panels. It can be more difficult to install but it provides good coverage and is more energy-efficient than fiberglass batts.
Once you've waterproofed and insulated your basement, you're ready to start framing.
Framing
Framing is one of the most important steps in renovating your basement. The frame creates a stable structure for your walls and ensures that they will be strong enough to support the weight of your finished basement.
Your contractor will use wood or metal studs to create the frame, depending on the type of walls you have installed. Metal framing is more expensive than wood but is also more durable and easier to work with.
Drywall
If you're finishing your basement, you'll need to install drywall. Drywall is a type of wall paneling that's made from gypsum and paper. It's used to create smooth, finished walls. Your contractor will first attach the drywall panels to the studs using screws or nails. Once the panels are in place, they'll use a putty knife to apply joint compound to the seams. The joint compound will help to create a seamless look. Once the joint compound is dry, your contractor will sand it down and apply a primer. After the primer has dried, they'll paint the walls.
Flooring
The type of flooring you choose will depend on the style of your basement and your budget. Some common types of flooring are:
Carpet: Carpet is a popular choice for basements because it's affordable and easy to install. It's also comfortable and can help to reduce noise.
Vinyl: Vinyl is a type of flooring that's made from PVC. It's water-resistant and easy to clean, making it a good choice for basements.
Linoleum: Linoleum is a type of flooring that's made from linseed oil, cork, and wood flour. It's environmentally friendly and easy to install.
Tile: Tile is a popular choice for basements because it's durable and easy to clean. However, it can be more expensive than other options.
Marble: Marble is a luxurious choice for flooring but it's also expensive. It's durable and easy to clean, making it a good choice for high-traffic areas.
When installing flooring, your contractor will first need to prepare the surface. They'll remove any old flooring and make sure that the subfloor is level. Once the surface is prepared, they'll install the new flooring. Carpet and vinyl can be installed using adhesive, while tile and marble require grout and mortar.
Ceiling
The ceiling is one of the most important parts of your basement. It helps to keep the noise from upstairs from disrupting your peace and quiet. There are a few different types of ceilings:
Acoustic tiles: These are made from fiberglass or mineral wool and help to reduce noise.
Drop ceilings: Drop ceilings are made from panels that are suspended from the ceiling. They're popular among homeowners with basements because they're easy to install and can be used to hide wiring.
Beadboard: Beadboard is a type of wood paneling that's often used on ceilings. It's known for giving your basement a warm, cozy feel.
Drywall: Drywall ceilings are very common because they're affordable. Made from gypsum and paper, they can be painted or left unfinished.
When choosing a ceiling, you'll need to consider the height of your basement and the amount of noise you want to reduce. If you have a low basement, acoustic tiles may not be the best choice because they can make the space feel even smaller.

Drop ceilings are a good option for low basements because they don't require as much height. If you're looking for a cozy feel, beadboard ceilings are good choices. If you want a more modern look, drywall ceilings are the way to go.
Electrical and Plumbing
The electrical and plumbing configurations can be labor-intensive if your basement isn't equipped with them already. Adding an electrical system to your basement will require running wiring through the walls and ceiling. You'll also need to install outlets and light fixtures.
If you're adding a bathroom, you'll need to run plumbing lines for the sink, toilet, and shower. You'll also need to install fixtures such as the toilet, sink, and shower. This will be one of the most expensive parts of your basement finishing project.

To save money, you can try to do some of the work yourself. However, it's important to note that this is a risky venture. If done incorrectly, you could cause serious damage to your home. It's best to leave this work to a professional.
Finishing Touches
Once the hard work is done, you'll probably wonder how to finish a basement. One important consideration is lighting. Since your basement won't get much–if any–natural light, you'll need to install artificial lighting. There are a few different types of basement lighting:
Fluorescent lights: These are commonly used in basements because they're inexpensive and bright. However, they can give your basement a clinical feel.
Recessed lights: Recessed lights are installed in the ceiling and provide a more subtle light. They're a good choice if you want to create a cozy feel in your basement.
Track lights: Track lights are installed along the ceiling and can be used to highlight artwork or other features in your basement.
You'll also need to think about furniture and storage, especially if you plan to use your basement as a living space. Coffee tables, dining tables, chairs, and sofas are all great pieces of furniture for basements. You'll also need to find a place to store things like an entertainment center, books, and games. One final consideration is storage. When it comes to shelving and cabinets, you have a few different options:
Fixed shelving: Fixed shelving is installed directly into the walls. It's a good choice if you want to create a built-in look.
Freestanding shelving: Freestanding shelving is not attached to the walls. It's easy to install and can be moved around if you need to change the layout of your basement.
Cabinets: Cabinets are a good choice if you want to store things out of sight. They come in a variety of styles, so you're sure to find one that fits your needs.
You should also feel free to decorate your newly renovated basement however you see fit.
Endnote
Redoing your basement can be an exciting task that will transform your home, improve its value, and add functionality. With a little planning and effort, you can create a space that you and your family will enjoy for years to come.
Reborn is thrilled to have been featured in Canadian Contractor Magazines June 2022 edition for our award-winning "Modern Makeover" Renovation. This renovation was the winner of the Canadian Home Builders Association for Best Bathroom Renovation in Canada
Below is a copy of the article, but we recommend checking out the full digital version of the issue on Canadian Contractor's site here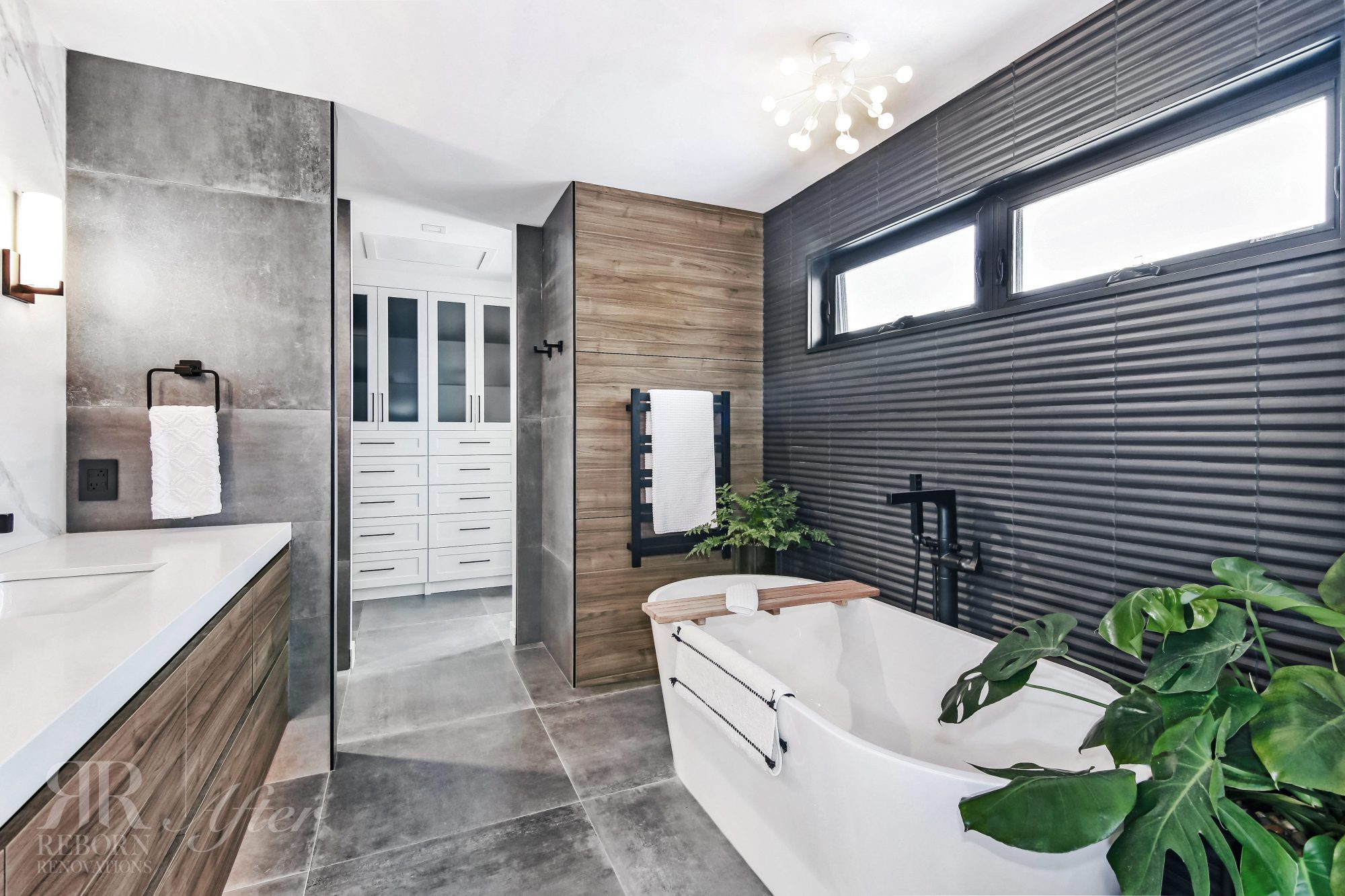 Contemporizing Calgary
Gordon Wornoff
How CHBA-award winner Reborn Renovations went from small kitchen projects to ground-up renovations
Calgary's Reborn Renovations recently earned a stampede of recognition from the Canadian Home Builders' Association for their exquisite kitchens and bathrooms. At the 2021 CHBA National Awards for Housing Excellence, Reborn Renovations was awarded the country's Best Bathroom Renovation for its project "Modern Makeover." Reborn Renovations was also a country-wide finalist for the best kitchen under $70, 000, on a different project.
Canadian Contractor spoke to Reborn Renovations owner, Danielle Matthews.
This build is an incredible transformation of a typical suburban bungalow into a stunning modern design, inside and out. Please tell us about this award-winning bathroom, Modern Makeover, that secured the win at the 2021 CHBA National Awards for Housing Excellence.
We were very lucky. The clients had an extensive Pinterest board and lots of ideas about what they wanted to do. My coordinator, my assistants and I fleshed out the design. It took about a month and a half, meeting with the client once a week.
We had to absorb a spare bedroom to make room for this bathroom, which was okay because they still had a guest bedroom downstairs.
I was really excited about the moodiness of this project, as we do a lot of white here in Calgary. Every surface of this bathroom is covered and draped in different types of tiles. There are big charcoal tiles surrounding the bathroom, jewel slabs behind the mirrors, corrugated matte black tile behind the tub, and a mixed-pebble mosaic in the floor of the shower.
The under-vanity strip lighting has become quite popular. It's a nice clean white light, you don't have to change any bulbs and these ones are on motion sensors – so when the client enters the bathroom in the middle of the night, they just turn on automatically.
Is it challenging to be cohesive in your whole-house design when the client brings many different ideas to you?
You've got to keep the size of the home in mind. A lot of inspirational photos from clients are from large homes and mansions. We are trying to translate that into something suburban – something with nine-foot ceilings versus 10- or 12-foot ceilings in the photos. That translation can get lost sometimes.
To effectively design with such a sleek and modern look, we layer many textures to create interest without a lot of profile.
For example, in this house, we have a lot of flat surfaces – tile, countertops, drawer fronts, boxes, paint, no casings around the windows for the most part – very little detail – all flat. But, there are a lot of layers and textures in this job when you really dissect it. We've introduced mixed metals throughout: from the appliances, to the sink, to the plumbing fixtures, to the lighting.
The mixed kitchen cabinetry is slab countertops and backsplash. We used a mixture of lacquered MDF and a product called Uniboard to achieve a grain-matched look throughout the kitchen. I love the juxtaposed contrast of the warm, vertical grain-matched wood against black charcoal cabinetry. I think it's outstanding. It gives it some life and some punch.
We added some dark wall paneling behind the master bed for that wow factor but also to carry some moodiness from the bathroom into the bedroom while still maintaining an overall bright space in there.
We make what we call a "selection form" which identifies every material – where it's going, what it's doing, all the information, the grout colour. At the time, this renovation had the longest selection form we'd ever had on a job, due to all the materials. Since then, we've had even longer ones.
How do you keep up with kitchen and bathroom design trends?
I think design is something you either have in you, or you don't. After years of doing this, I realize it's just like dressing yourself. Nobody teaches highlighted against the bright quartz you what's current or what's not. You just see people doing it or you read magazines and literature and you start to understand what's new and what's coming.
I've been through multiple trends. I've been through maple cabinets, then espresso cabinets, well into white cabinets. Now we're into flat-slab blacks and colours. Keeping on-trend means looking for what's next, being able to dissect it, understand it, and recreate it.
How big is your company and what are you working on now?
We started out as Reborn Kitchens in 2008. Back in the day that's all we did – kitchens. A lot of successful renovators do that...start with one thing and get really good at it before you take on another thing (basements, additions, etc). That's how you get good growth. Most builders or renovators that try to take it all on from the get-go end up crashing and burning. I have watched tons of renovators come and go, and that's usually the reason.
We got good at kitchens and then we started expanding to the next thing. We move slow and we make sure we're masters of what we're doing before we take something on. We didn't even start with additions and expansions until six years ago. Here we are, 13 years in and we're doing our first development.
Our design centre is currently attached to our wood finishing shop, which keeps the quality controlled. Reborn Renovations has the longest warranty in the city of Calgary at five years, so quality is overly important to us.
Our company is pretty large. If you're counting our trades and subcontractors, we employ well over 200 people. In management, we're a couple dozen.
In this company, no one is more important than the next person because every job depends on so many key individuals. Each job goes from estimating, to design, to project management, and then it can go to warranty if there is a deficiency. A lot of hands touch these jobs, and we're only as good as any team member.
Good trades are so hard to come by these days. When we get a good tradesperson, we are good to them. We make sure they're paid on time, have upfront money for materials, and are always provided proper information through our software – addresses, contact information, customer requirements, drawings and material selection forms. All of this makes for a very loyal relationship.
I'm really lucky. I'm one of the few women in this industry. I feel like all of the men I work with are always very respectful – which I can't say is always the case across the board.
Did you always intend on this career path?
I wanted to be an architect when I was young. My dad was a project manager for commercial high-rises. I loved his blueprints, and I loved that idea. And then as I got older and became a teenager, instead I thought, "How do I make the most amount of money in the quickest amount of time?"
That is what led me into pipeline design in oil and gas. At that time, that sector was booming so that's where I went. You were allowed to fast track school for those things during the boom, so I did that.
But I hated it. I hated every minute of it. I'm a social butterfly. I like people, I like my clients. I like working with people, I like my work. Every job is like Christmas to me when we get the transformation photos. Sometimes we get small gifts, or a thank you card, or hug for all the blood sweat and tears. I love that because I know the client is truly happy.
What are some challenges you face?
Hours. I work a lot. I'm never off the clock. I'm in my truck right now. That's what I do. I'm either at the design centre with clients or I'm at job sites.
I'm a mom with a five-year-old son with autism at home. That mom guilt is real.
We went out and assisted with the rebuilds in Fort MacMurray (after the fire). My son was a few months old as I was traveling back and forth doing that.
We didn't get to where we are without a lot of hard work. I'm hoping within the next couple of years I'll be able to sit back and enjoy – I keep saying that – but I'm too much of a control freak to not be involved in all the jobs.
What's next for Reborn Renovations?
We are doing our first ground-up development right now, on the outskirts of Calgary in De Winton. We do a lot of additions and expansions, but this is our first development. It's great because there's no unforeseen structural challenges. Its refreshing to build everything new.
We're really crushing the timeline on it. We're very very proud of ourselves to be able to keep things moving in light of everything that's happening with the pandemic and materials shortages.
I'm not sure where it will take us. We already have a busy workload. We do what we're good at and when someone trusts us to do something else, we do that. It's been a fun, refreshing adventure: always something different, something new.
Do you feel Reborn Renovations is the right renovator for your home improvement project?
Reach out to our team at 403-907-1078, we'd love to learn more about your renovation goals and help you transform your living space.
Reborn Renovations Wins 2022 Best of Award!
March 16, 2022 - Today, HomeStars announced Reborn Renovations has been selected as a 2022 Best of Award Winner. The Best of HomeStars Awards 2022 are HomeStars' yearly honours where they celebrate pros who go above and beyond when it comes to their three pillars of integrity, customer service, and consistency. This prestigious award recognizes the best across the HomeStars network of over 99,000 Canadian home service professionals.
"Best of Awards have been awarded every year since 2009 to celebrate pros who stand out from the pack when it comes to their commitment to excellence," says Shir Magen, CEO of HomeStars. "Best of Award winners signal trustworthiness to homeowners. They are the pros who deliver top-notch customer service, have built themselves an excellent reputation, and go above and beyond customer expectations."

A quote from the Reborn Renovations Team
"We've been part of the HomeStars network for years and are pleased to have received multiple Best of Awards over the years," says Danielle Mathews, Lead Designer of Reborn Renovations.
"We know that trust, dependability, and excellence in customer service are the center of any award-winning business. We take enormous pride in our trade and put our customers and their needs first. It's exciting to see all the good work we do recognized alongside the best in the Canadian home improvement and repair industry.
Thank you to HomeStars and our wonderful customers that helped us get here. We couldn't have done it without you!"

Reborn Renovations is a premier home renovation contractor in Calgary, Alberta, servicing all your renovation needs from Kitchen Renovations, Basement Developments, Home Additions, to new Infill and Acreage Builds.
See what our past clients have to say on HomeStars, and join all the happy customers who have made Reborn Renovations their first choice for hire.

About HomeStars
HomeStars is Canada's largest online marketplace connecting homeowners with trusted home service professionals. In 2020, 9 million homeowners visited HomeStars looking for a pro for their next home improvement project. HomeStars was created in 2006 to help homeowners make better hiring decisions. HomeStars is based in Toronto, Ontario, and is an operating business of Angi, Inc. (NASDAQ: ANGI).
To learn more, visit https://homestars.com
Any home renovation is an extensive project that should be left to be done by professionals. However, with proper research and planning, construction skills, equipment, and creativity, you may choose to tackle your home renovation yourself.  
Preparing for a home renovation project involves gearing up with the essentials. Working within your home doesn't mean you can skip on following the safety working standards. It means you have to be equipped with proper safety wear to avoid accidents and ensure comfort.
To get ready for your DIY home renovation, here are some of the safety wear you have to prepare:
Basic Long Sleeves Shirt
A shirt with long sleeves is the essential workwear in any construction setting. Aside from providing basic protection, this clothing will help keep you comfortable while working.
When shopping for proper work tees, look for those made with durable yet breathable fabric. Moisture-wicking fabrics like polyester and nylon are best for trapping moisture away from the skin, keeping you dry and comfy. These materials are also highly durable, making them perfect for protective clothing.
In addition to durability, another quality to look for is elasticity. A proper work shirt should allow you to move your arms freely. Elastic fabrics do not hinder your movements which is great for keeping you functioning at your best.
Long Pants
For total comfort, pair your work tee with durable work pants. Long pants can keep your lower body safe from cuts and bruises during your home renovation.
When shopping for work pants, look for the ones with high quality and stretchable fabric. While good old denim pants seem perfect, especially if you'll only do paint works, upgrading to utility pants with elastic stretch is best for more flexibility.
Additionally, proper work pants have multiple pockets. These pockets are often double-layered for extra protection from sharp bits and screws you may carry.
Another notable feature of pants dedicated to intense construction work is cut resistance. You can find highly durable yet lightweight pants that suit your style without compromising comfort and protection.
Leather Apron
To level up your basic safety working clothes, you may wear a leather apron. Leather is a rigid material used to craft other safety wear like gloves to prevent cuts and bruises.
A leather apron is a piece of essential protective equipment worn during woodworking. It protects your clothes and body from sharp tools used to cut and shape wood.
Moreover, a leather apron is also one of the welder's must-have items. Leather is a natural material that has heatproofing capacity. It provides enough protection from burns caused by sparks during welding and cutting metals.
If you're not convinced with leather's protective qualities, you may choose a polyurethane apron as an alternative. Polyurethane is also a more durable material than genuine leather despite its lower price.
When shopping for a protective apron, go for ones with many pockets to easily carry small tools, screws, and nails.
Protective Gloves
Protecting your hands is the top priority since they'll be the most exposed to different materials and chemicals during construction. Therefore, grabbing suitable gloves for each project is a must.
The type of protective gloves you'll need for your home improvement project depends on the materials you'll be working on. For instance, prolonged usage of angle grinders and impact drills means you'll need impact and vibration-resistant gloves. Aside from providing a firmer grip, the right glove can also help prevent hand-arm vibration syndrome.
As a general rule, you should choose gloves that provide a high level of cut-resistance, grip control, breathability, and dexterity. You may also wear fabric gloves under any protective gloves for added comfort and warmth, especially if you'll be working in the cold. Also, get the accurate size to maximize its protective function.
Full Face Shield
Face shields protect from chemical splashes, sharp debris, and sparks. Wearing one is a safety standard followed in construction sites to ensure maximum protection.
Despite working within the comfort of your home, wearing a face shield is a must to prevent accidental bruises and chemical splashes on your face. It can also protect your eyes from chips when you're cutting metal and wood.
If your home renovation project only requires woodworking, face shields made with high-grade polycarbonate or cellulose acetate would provide enough protection. They're impact-resistant and provides good optical quality.
Welding Helmet
You'll need a welding helmet or mask if you're doing metal works like cutting and welding. Unlike regular protective face shields, welding helmets provide ample protection against flash burns.
There's a variety of welding helmets you can choose from according to your needs. The most affordable option is the classic passive welding helmet. It's made with tough materials that can withstand UV rays and extreme heat. However, its lens is adjusted manually.
Your next best option is a helmet with an auto-darkening lens. It detects the light emitted while welding and adjusts the lens' brightness accordingly. This simple upgrade can help you work faster since there's no need to stop working to change the lens's brightness manually.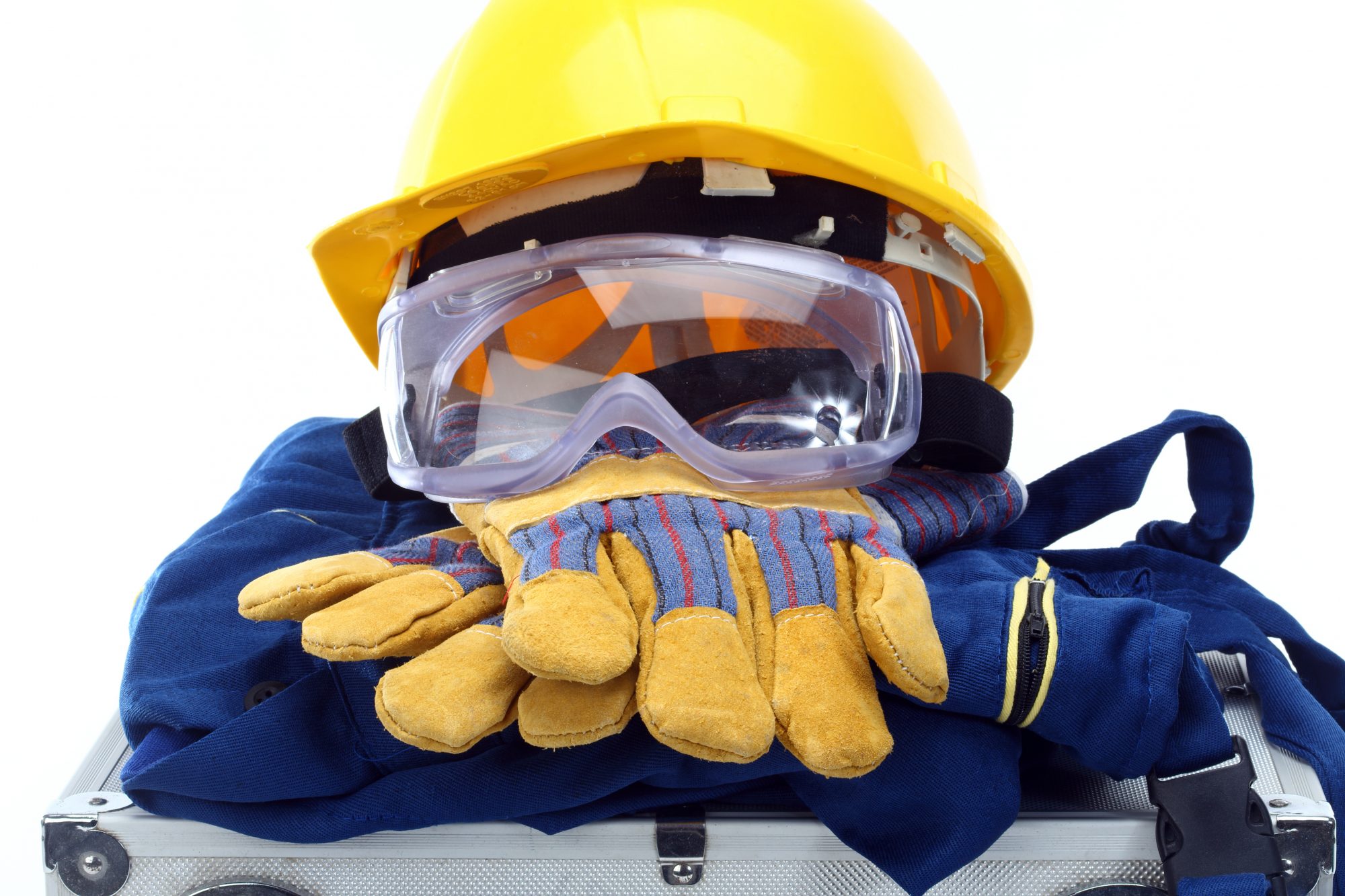 Safety Glasses
Safety glasses function like face shields but solely for the eyes. It provides total protection even on the sides of the eyes to prevent penetration of harmful debris or chemicals that may cause injury and irritation.
There are various types of safety glasses that can suit your needs. You may use filtered ones to protect your eyes against ultraviolet light and heat. Wearing one under a clear face shield can provide further protection when you're working under the sunlight.
Moreover, if you'll be doing some paint jobs, you may get clear safety glasses instead of tinted ones for better optic quality. It will protect your eyes from accidental paint splashes that can cause chemical burns.
Headgear
The type of headgear you'll need depends on the project's expected level of intensity and hazard. The aim of wearing headgear is to protect your head from falling objects, as well as from light and heat, especially if you'll be working outside.
For renovations that involve lifting objects like ceiling installation and repair, wearing a hard hat is a must. Wearing an impact-resistant helmet prevents head injuries during construction. Light-colored hard hats can also prevent heat stress, especially if you're exposed to sunlight.
Moreover, high-quality hard hats also provide protection when working on electrical wiring and repairs. They are made to protect you from electric shocks and other traumatic brain injuries.
If you'll be working in the middle of winter and for increased comfort, you may wear a flat top beanie under a hard hat. Aside from keeping your head warm, it can also provide a cushion between your head and the hat.
On the other hand, in working on less hazardous home renovation projects like wall painting, basic woodworking, and floor installation, wearing a comfortable, breathable, and moisture-wicking protective cap is enough.
Fire Retardant Coverall
Dealing with electrical connections means you'll need sufficient protection against electric shock and fire hazards. Like what every expert in this field says, wearing a fire retardant coverall is necessary.
Fire retardant coveralls are made with chemically treated fabric to ensure fire resistance. Wearing one while doing electrical work and welding is necessary to protect you from sparks that may cause a flame.
In case of fire, the fabric used in fire retardant coverall will protect your skin from heat and burns. The clothing won't melt to your skin, unlike synthetic fabrics such as nylon, and it is also self-extinguishing, meaning that once the flame or heat source is removed from the fabric, the fabric ceases to burn.
Furthermore, fire retardant coveralls are available, both reusable and disposable. To avoid fabric damage during washing, you may choose disposable ones. Plus, they're also less expensive compared to reusable coveralls.
As a reminder, electric works should be done by licensed, trained professionals. While some homeowners choose to take on minor electrical DIY work after researching, we recommend reaching out to an expert to avoid certain risks.
Noise Reducing Earmuffs
Most power tools produce loud sounds that can cause ear damage through prolonged exposure. To keep your ears safe, wearing noise-reducing earmuffs is the best solution.
Noise-reducing earmuffs are made with unique materials that dampen noises in the environment. They protect your ears from high-frequency noises produced by the gears and fans of power tools.
Earmuffs have a cushion, making them comfortable to wear while working. You may also find ones made with moisture-resistant fabric that keep sweat from absorbing.
When shopping for good-quality earmuffs, always check their noise reduction rating or NRR. The highest NRR available in the market is 31. However, you can always upgrade its efficiency by wearing it with earplugs.
Safety Belt
For doing a home renovation that requires working a minimum of three meters in height, like painting high exterior walls, you'll need a safety belt or harness to secure your safety.
A safety belt is a piece of personal protective equipment required when working at least 10 feet from the ground. It serves as a fall arrest in case of slipping. Using this safety wear is a must to still observe the safety working standards even at home.
Safety belts or harnesses are made with polyester, a highly durable fiber commonly used for other workwear. However, if hot works like torch-cutting and welding are involved, it's best to look for a safety belt made of heat and fire-resistant materials like Kevlar.
Another factor you have to consider is the size of the harness. Its fit significantly impacts its function and your safety. Along with the size, you must also consider comfort. It should be a non-negotiable factor that you should take into consideration since you'll be wearing it for a long time.
Respirator
Harmful dust is always present when working with wood and concrete. When inhaled, this may lead to irritation and lung problems. Wearing a respirator with an accurate filter can help prevent these hazards.
Before you start working on your home renovation project, grab yourself an appropriate air-purifying respirator and replacement filters. A respirator blocks tiny particles that you may inhale when cutting and sanding wood.
A respirator also protects you from inhaling silica dust—a natural chemical that can be fatal since it restricts lungs from taking in oxygen. Silica dust is present in concrete, porcelain tiles, mortar, and bricks.
Aside from hazardous dust, a respirator can also protect you from welding fumes that negatively affect one's health. When inhaled for an extended period, welding fumes can cause shortness of breath, nausea, irritation in the nose and throat, and may even lead to severe lung problems.
To ensure the efficiency of your respirator, replace your filter after a maximum of 40 hours. Replace it immediately when you feel like you're not getting enough oxygen.
Moreover, consider the type and rate of filters appropriate for the work type. You may see the letters N, R, and P, which are indicators of the type of respirator you have. P100 filters are the most efficient in blocking particles. It's also oil-proof. In contrast, R is oil-resistant, while N is not. In terms of rating, a higher number means higher filtering capacity.
Safety Shoes Or Boots
To ensure overall protection from head to toe, grab yourself a pair of work shoes or boots. Unlike regular rubber shoes and sneakers, work shoes are crafted to provide maximum impact protection.
Wearing safety shoes and steel-toe boots protects your feet from different hazards like stepping on sharp objects, bumping on hard corners, and dropping heavy objects. They are made with a protective layer that's highly impact-resistant.
The soles of safety shoes are also specially made to be anti-slip and thermal resistant. It prevents accidents like slipping on wet floors and burning from torches and sparks.
Aside from protection, wearing the right shoes during your home renovation also provides comfort for a long day of work. You may also wear socks with reinforced heel and toe sections, specially made to wear with steel-toe boots.
There's a wide range of options on safety shoes and boots that offer maximum protection, durability, and comfort. For checking out different safety shoes and boots' specifications and for more information check out mancaveworkwear.com.au.
Conclusion
Getting the proper protective wear for your home renovation projects is a safety standard you must follow. Above your project's quality is your safety. Also, ensuring protection from all types of hazards will help you work more efficiently.
Whether you realize it or not, a home renovation project can be an auspicious moment in life. Years of working hard and saving money were the foundation to making your dreams a reality. Whether it's a small repair for upkeep or a large-scale remodeling, the desire to improve your space will lead the drive to improve the quality of life for your family as well.
Yet times of change can present stressful situations, and a home renovation is no different. Taking the step toward achieving your dream home will mean facing the various challenges that come along with it. While it is tempting to see your dream begin to take form, the project's integrity and your family's safety must take precedence.
Home renovation professionals and experts (1, 2) understand that homeowners may wish to be a part of every step of the renovation process. They can empathize with the sentiment but are well aware of the dangers and stresses you might not have realized.
In order to feel even more reassured of the decision to move out during a renovation, read on to discover the benefits of it.
Avoid Potential Lung Damage
As a home renovation aims to improve the functional and aesthetic aspects of your home, starting at the base will be necessary. This will ensure that any changes you plan for your home remain sturdy for many years to come. However, ensuring this level of quality will require varying levels of demolition to be done. This is where health hazard concerns stem from.
Breaking down walls, reinforcing foam foundations, and sanding down wooden beams are common occurrences in a renovation project. While necessary, they are also likely to leave plenty of floating particles in the air. They are the reason a professional's work attire includes a dust or respirator mask. They are used to protect workers from hazardous materials such as the following:
Smoke
Construction dust
Asbestos
Carbon monoxide
Nitrogen oxides
Breathing in these particles can be dangerous to your health. Constant exposure can lead to complications such as chronic obstructive pulmonary disease (COPD), lung cancer, and asthma. They are especially egregious for children, the elderly, pets, and members of the family with lung conditions.
Moving to a temporary home for the duration of the renovation is a step toward protecting yourself and your family from these health hazards. Workers will rest easy as well, knowing that their work will not jeopardize the safety of other people.
Keep Your Family Away From Safety Hazards
As construction kicks into high gear, your home will begin to look less like a house and more of a construction zone. While this is necessary, it ultimately means that you are also welcoming the various safety hazards (3) that a construction zone carries with it. That being said, three key points must be kept in mind.
For starters, construction materials can present a cause for concern in any household. Steel poles, stone slabs, and wooden boards are typically harmless on their own, but your child or pet at home may see the material pile as a personal playground. Disturbing the balance of items stacked on the bottom can be extremely dangerous. While you may do your best to look after them, all it takes is a few distracted moments for the unthinkable to occur.
The next item to keep in mind is the presence of dangerous tools and equipment in your home. Seeing as they are the leading cause of accidents during a home renovation, every precaution must be exercised when using them and then storing them after. Though their use is invaluable for any construction project, even the workers who use them on a daily basis know that complacency is the herald of disaster.
Some tools that may be used during your home renovation include the following:
Power tools
Drills
Backup generators
Saw blades
Sledgehammers
Nail guns
Lastly, stripped walls and floors present a new layer of danger to be wary of as well. Electrical wiring and water piping that were once expertly concealed beneath need to be uncovered if they no longer align with your renovation plans. The deconstruction process may also leave floors very uneven. Shocks, bumps, and bruises can be common during a home renovation.
Living in a house during a renovation may soon feel like living in an obstacle course. So, when it comes to you and your loved ones' safety, taking risks is never advisable. Additionally, you'll find that most people are keen to agree that spending money on a hotel is much more enjoyable than spending it at the hospital.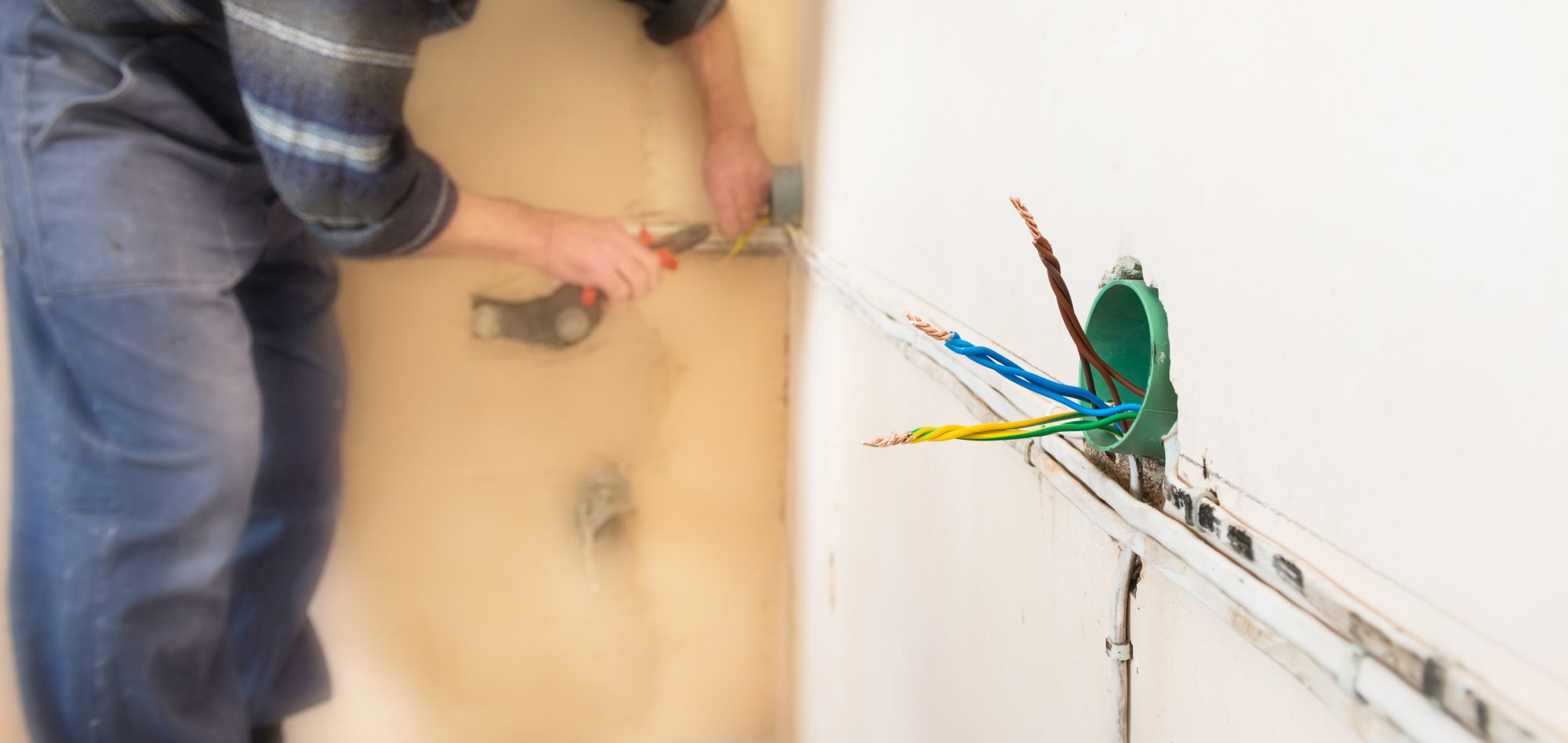 Keep The Project Focused
It's understandable to want to be part of the journey. From the beginning of the renovation (4) right until the end, every step must meet your approval. After all, it's your money and your home. Every nook and cranny must adhere to your vision. The culmination of years' worth of dreaming and planning is about to become reality. And yet, implementing an extreme supervisory approach may actually backfire instead.
While it may hurt to think about, it's important to take a step back and truly look at the bigger picture. Although an architect or interior designer created the blueprints of your new home, it's your vision that they followed. Although a professional contractor and his employees laid the groundwork for the renovation, it's your approval that landed them the job in the first place.
Applications in real life may look drastically different while still in blueprints. Additionally, things may not always look the way you want until the finishing touches are applied. While you might try your best to resist the urge to give immediate feedback, staying in your home and witnessing every detail can make it a challenge.
Moreover, constantly hovering around employees may come off as a sign of distrust. Although you may be thinking about what's best for your home, a damaged relationship with your workers can be detrimental to your plans. It may slow down the work and create tension between you and them.
One of the best practices to address concerns with work is agreeing to stay away from the house and checking in at least once a week. This ensures that contractors and their employees are given space to work and concentrate. It can be a bonding experience between you when they see your reaction to the amount of progress they can cover in a span of seven days.
A pleasant relationship with your workers will work toward the benefit of everyone involved. Your feedback will be easier for them to take in, so any changes you need to get done can happen quickly. Moreover, future projects with the team will mean better business for the contractor and their employees as well.
When in doubt, it's important to remember that at the end of the day, these people are professionals. It's important to know when DIY is possible (5) and when help from experts is needed. By choosing them, you are welcoming years of experience and expertise into your home. Should you need the extra push, sticking to weekly meetups can be exactly what you need.
Avoid Stress Associated With Home Renovations
While you may be imagining the finished work vividly in your head, the reality of living in a home being renovated can be an entirely different experience. The space you once associated with peace and warmth can rapidly turn into a stressful and unforgiving mess.
As your house undergoes its transformation, various changes will have to be imposed on you and your family should you choose to stay for the duration. Usual routines can be interrupted, and for many, this may turn out to be enough of a deal-breaker.
Water lines may be shut off during a bathroom remodeling. Your family may not be willing to put up with a toilet that doesn't flush or a shower without pressure. Consequently, you may need to find creative solutions when it comes to laundry and dishwashing. Going to work or school without these utilities can quickly lead to a bad mood.
Electricity can also be dangerous during a rewiring, so it may be interrupted for a span of time. Light fixtures without power and phones with dead batteries can be a recipe for a very unhappy family.
Another aspect to consider is the sudden lack of privacy as well. Since workers will need access to various parts of the house, you and your family may find it somewhat difficult to constantly adjust to people passing through different areas of your home. Renovations in one room can mean a connection is disturbed in another area, so worker foot traffic around your home may be a stressful experience for everyone.
It can be easy to assume that living in an incomplete home is bearable for a short period. However, delays and do-overs could extend the estimated time frame for completion. When your home becomes temporarily obsolete, it doesn't mean your everyday life has to be as well. Moving out for a few days can be the key to keeping a sound mind during the entire event.
Save Money In The Long Run
One of the key factors to a successful home renovation is the proper allocation of the budget. Covering all the typical expenses while stretching it for unforeseeable costs are all hallmarks of a well-thought-out plan. However, adding in funds for moving out during the renovation could have you end up with more money in your pocket.
Taking all the other points into account, staying away for the duration of the project helps keep your loved ones protected from health hazards and safety concerns. Keeping away from the noises, smells, and messes of a renovation can do wonders for your sleep pattern and overall mental health as well. All these things can add up to prevent any possibility of a hospital stay and the formation of long-term illnesses.
An empty home can also help speed up the timeline of the renovation. Having you and your family at home means the contractor is likely to lose hours of work. After all, safety is a primary concern, so they will most likely suggest work hours that have the least amount of people present in your home.
By giving your contractor more freedom, they are allowed to focus better on the task at hand. A month away from home is more preferable than three months of half-day and weekend work schedules.
When it comes to the success of any project, keeping an eye on your goals is key. Keeping your loved ones away from the house during the renovation can be the best assistance you can give your contractor. While it might seem logical to think that you save more money staying at home during a renovation, you might actually end up spending more than is necessary. Other than the medical expenses that you might incur if a family member falls victim to health and safety hazards, you'll also end up paying more for the workers' services if the project is stretched out beyond your desired time frame.
Treat It As A Vacation Before The Unveiling
Although a renovation should be approached with as much thought as possible, it's important not to lose sight of the emotional aspect as well. Most people know their homes inside and out. It is as familiar to them as the back of their hands. Proceeding with a home renovation will mean changing these familiar scenes permanently.
Moments like these should be cherished and remembered. It's an event that encapsulates many emotions all at once. The joy of achieving a dream, catharsis from years of discipline, and a tinge of sadness from losing familiar sights. While it can be difficult to express, people are subject to feel any mixture of these emotions.
Moving out during the construction will serve to mark the event as an auspicious one. The mini-vacation can be an excellent change in scenery while your contractor finishes up the work.
Finally, when the time to return home arrives, the effect is enhanced during the big reveal. Only by leaving it as you remembered can you truly spot and appreciate the changes made during the renovation.
It's not every day that a family can have their home reinvented. Slowing down and taking it all in will make spending the money significantly worth it.
Conclusion
Moving out during a renovation can only serve to benefit you and your family. The thought of saving money is nice, but compared to the risks involved, that may not be enough to justify the decision. In addition, as you can see in the points above, there are more benefits to be gained in moving out temporarily than there are in staying put.
Sources:
1) Our guide to choosing the right home renovation contractor
2) https://www.thebigboymovers.com/locations/salt-lake-cityprovo/
3) https://medium.com/@pasesinteriors/hazards-to-watch-for-during-remodeling-cb134352f585
4) https://www.rebornrenovations.com/home-renovation-where-to-start/ 
5) https://www.thespruce.com/7-diy-home-plumbing-projects-5096008
Kensington is considered Calgary's urban village. The district spans across two northwest communities – Hillhurst and Sunnyside and has been around for over one hundred years. 
Over 250 businesses are part of Kensington which makes it one of Calgary's most vibrant communities. You could spend an entire day strolling the streets, checking out the local shops, and exploring some great cafes. 
Sunnyside is located on the North side of the bow river adjacent to downtown Calgary. It was established in 1904. The Bow River is south of Hillhurst and was established in 1914. Together these communities form the Hillhurst-Sunnyside Community Association. 
The main areas of the community association are child care, outreach services, and services for seniors. Recreation programs are also offered through the association and their centre is available for various event rentals.
In 2020, Sunnyside ranked fourth-best neighbourhood in Calgary in Avenue Magazine's Best Neighbourhoods in Calgary list. It received 249 restaurant access points and 55 public recreation facility access points. It also received a walk score of 75. 
The community has many different amenities and features that make it a desirable spot in the city. It remains a favourite place for shopping and walking for both Calgarians and tourists.
Kensington shopping district is home to 271 different businesses. The best part of the district is that all the businesses are local! You won't find big box stores here. With all the things to do around the neighbourhood, it's easy to spend your entire afternoon here.
The vibe it has is unlike anything else in the city. Historic and modern elements are intertwined perfectly – it's impossible to not fall in love with the neighbourhood!
Accessibility
The location is great for those who don't own a car or prefer walking or biking. Kensington is within walking distance of the city centre. It is also transit accessible. The sunnyside station runs through the community. Four different bus routes also pass through Kensington Road NW. Route 1, 4, 5, and 65. 
Green Spaces
Riley Park is 9 hectares of park within walking distance of Kensington's shopping district. The park includes a wading pool area, cricket pitch, and a memorial rock garden.
The Hillhurst and Sunnyside Community Centre playground is a fun place for young families to spend some time. Walk or bike by the river as well! Check out the Hillhurst Athletic Park as well for baseball diamonds, soccer fields, tennis courts, and basketball courts!
Prince's Island Park is a short walk away so it's the perfect destination for a picnic by the river or walking along the river paths. 
Things to do
Kensington always has many fun events going on. Whether it be a stroll through the Christmas lights, attending the farmer's market, or enjoying a festival for foodies. Kensington offers something for all residents.
Other events include summer movie nights, the #LoveYYC campaign that happens in the winter, and craft beer festivals.
Gather a group of friends and head to the Hexagon Board Game Cafe for a fun-filled board game night. Choose from hundreds of board games and puzzles. You can also enjoy some snacks and hot beverages while you play. 
Looking for some new lunch spots? Sidewalk Citizen Sunnyside's deli counter offers daily sandwich and pizza specials along with other baked goods. It's a staple in Kensington! 
If you're looking for organic tea and coffee, try Higher Ground Cafe. It was established in 1982 and is committed to promoting sustainability on a global scale. 
Another great cafe nestled right in Sunnyside is Vendome. They are more than just a coffee shop. They offer an extensive menu filled with brunches, burgers, cocktails, and wine. 
For the book lover, Pages on Kensington is the place to be. The three-level store is lined with books for readers of all ages. From spine-chilling thrillers to autobiographies, this store is one of Kensington's gems. There is also a section to purchase used books at a discount. 
Enjoy a unique cafe experience at the Regal Cat Cafe. This cafe is the perfect place for couples and friends to enjoy hand-made coffee, teas, and sweet treats. The cafe houses up to 12 adoptable cats that you can interact with during your visit. 
Every Saturday, the Hillhurst-Sunnyside Community Association hosts an indoor Farmer's Market from 10 AM – 2 PM. The goal of the farmer's market is to become a thriving hub for community activity that is anchored in the exchange of high-quality, local food and goods. This enriches the inner-city and in turn, supports the local economy. The association also hosts a flea and antique market on Sundays from 7 AM until 3 PM. The flea market is great for finding furniture, classic CDs, crafts, and more. 
Schools
SAIT is a post secondary institution located on the north side of Hillhurst. The University of Calgary is a short 10-minute C-train ride away. 
Queen Elizabeth Junior and High School, Hillhurst K-9 School, and Rosedale K-9 School are also in the area. The number of schools for younger children makes Hillhurst/Sunnyside a desirable place for families. 
Kensington Business Improvement Area
The award-winning Kensington Business Improvement Area (BIA) for planning events, keeping the space beautiful and the marketing of the shopping district. 
They work with the City of Calgary to deliver municipal services in their zones as well as advocate for policies that support economic vitality.
Another part of their role includes enhancing the economic development of a certain area through marketing and promotions. The BIA continues to work hard to maintain the public realm, add new art, and create a safe and inclusive community.
This historic area of the city is truly a treasure. Although it is older, people of all ages from around the city can come and appreciate the beautiful architecture, local businesses, and enjoy the green spaces.
Calgarians won't find another area in the city with the same atmosphere as Kensington.
Reborn Renovations is an award-winning home renovation company located in Calgary, providing interior and exterior renovations as well as home additions, new home developments, acreage builds, infill homes, and more. Proudly serving all areas of Calgary, Airdrie, Okotoks, and Cochrane.

Here is a recent kitchen renovation in Kensington / Hillhurst Calgary completed by Reborn Renovations
A video preview of our Kensington Calgary renovations:
https://youtu.be/0F8mkPp9Ii8
Sources: 

https://www.google.com/maps?cid=16138368582374918816
https://www.google.com/maps?cid=11258576465027908228
https://www.google.com/maps?cid=10540454594403566724
https://calgarylifestyleguide.com/kensington-calgary-neighbourhood-guide/
https://www.hsca.ca/
https://kensingtonyyc.com/
https://en.wikipedia.org/wiki/Sunnyside,_Calgary
https://en.wikipedia.org/wiki/Hillhurst,_Calgary