For those wondering "how much does it cost to renovate a basement in Calgary?", you need to consider the various factors that determine renovation expenditure. As with any renovation there is no one size fits all price range for completing a basement development.
A basement development in one of the new homes in a new community like Ambleton or Alpine Park, will have greatly different needs and layouts than a basement development being completed in an older neighbourhood such as Inglewood and surrounding communities.
A basement development being completed in MacEwan near Nose Hill Park will have very different considerations compared to a basement development in houses near the Elbow River.
Basement renovations offer an investment in your property while creating extra living space and can bring many benefits, but understanding average prices is vital for budget planning. In this blog post we will discuss how such expenses are calculated, and the usual cost range involved with transforming basements into functional spaces. As well tips on selecting a reliable renovation company.
Key Takeaways
The average basement renovation in Calgary, in 2023, costs between $45,000 and $125,000.

Basement renovations in Calgary can range from $40-$100 per sq. ft., depending on size, design and materials.

Consult experienced contractors for successful cost-efficient planning and use online tools to estimate costs accurately.

Basement renovation offers increased living space, improved home value, enhanced functionality and potential rental income benefits.
Understanding the Factors That Affect Basement Renovation Costs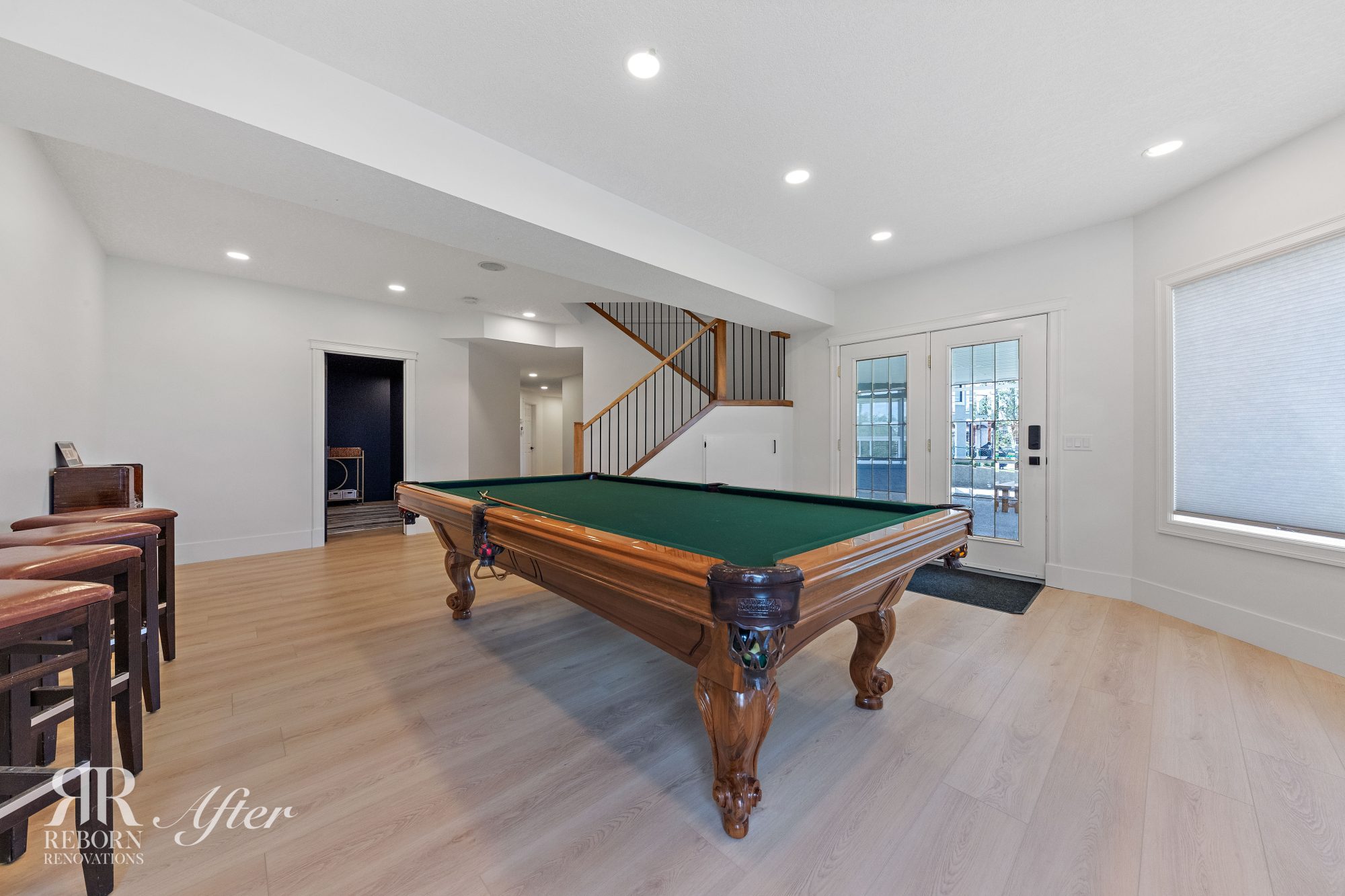 The overall cost of a Calgary basement renovation is dependent on several crucial factors. Those include size, design, materials needed and the layout's structural conditions. Gathering this information will help in strategizing and making sure that your entire project yields good value for both you personally, for your potential tenants, and increased value when selling your home.
To estimate prices accurately, it is wise to look into professional contractors as well as using online resources. This way sound decisions can be made regarding investments in each stage of renovating the basement area of any structure located within or near Calgary city limits.
Size and Layout
When looking to renovate your basement, size and configuration will have a big impact on the overall cost. Speaking of larger basements, larger basements require more labor and materials which usually results in higher expenses for renovation projects in Calgary with an approximate range of $40-$60 per square foot.
For those who wish for an open-layout design, it may prove to be less expensive than several rooms due to its need for fewer walls or construction work. Other factors such as quality of materials used also play a role along with desired renovation outcomes so these should all be taken into account before making any decisions about costs.
Design and Materials
A basement developments cost will vary depending on the choices you make in terms of design and materials. For instance, a homeowner can budget less for a simple basement development in which you are adding just bedrooms and a possible living area vs. a basement development featuring upgrades such a bathroom, a wet bar, or kitchenette.
Installing wet bars or kitchenettes as part of your overall basement development is more expensive than other options - typically starting at around $6500 for plumbing and fixtures plus any needed electrical work, and $250 per linear foot of built in cabinetry.
Adding a bathroom to your basement development will see a homeowner typically spend between $8,000 and $10,000 depending on your choice of plumbing and bathroom fixtures. This price will also depend if you live in a new home with plumbing rough-ins already pre-installed, or if you live in a more historic home where all new waterlines, drainage and venting would need to be installed.
Other features that may add to the price are replacing staircase walls with spindles/railings (ranging between $1500-$4500). It's possible to find an appropriate balance between budget considerations and desired style by selecting carefully when renovating your basement area.
Structural Considerations
Renovating basements in existing homes or constructing new ones can involve a variety of costs, depending on the structural elements such as load-bearing walls and beams. If you are looking to remove the teleposts in your basement, expect to add at minimum an additional ~$5000 to your basement development cost.
If you are looking to develop your basement into a rental or secondary suite, you may need to add a separate staircase and entrance. In most cases
For older buildings, there might be additional challenges like outdated plumbing or electrical systems or inadequate insulation which could add to project expenses per square foot. If you are looking to increase the height of your basement ceiling height by digging down, costs can jump rapidly. There may also be issues with small windows or staircases that no longer meet building code and need addressing prior to any renovations taking place - but it's important these items are sorted out before commencing so everything is structurally sound at completion.
Average Cost of Basement Renovations in Calgary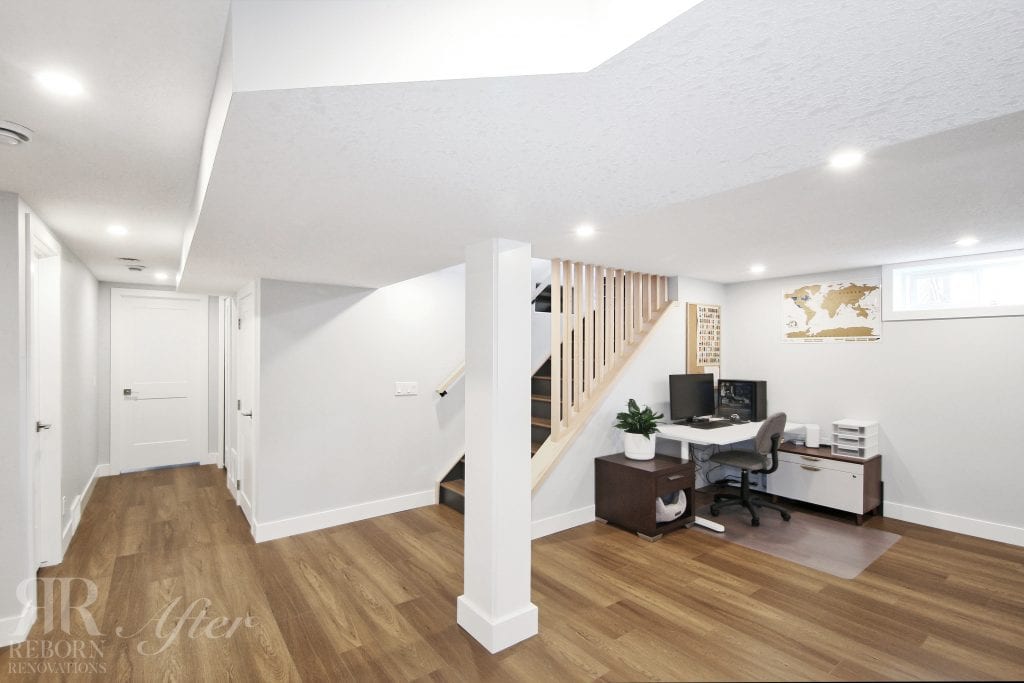 When it comes to basement renovations in Calgary, the average cost per sq. ft varies from $40-$100 depending on various factors such as the size of the space, level of customization and finishes required or any extra features that may be added like bathrooms or wet bars.
Speaking plainly, simpler jobs require less money while more specialized designs with high-end finishes will raise overall expenses further. Factor this into project planning for ultimate value when renovating a basement in Calgary. To help inform your decisions, carefully consider all associated costs based upon desired outcomes along with possible return on investment. Can you get what you want with the money you are willing to spend? and will how much will the money you put into your basement development increase your homes value? – having a preestablished vision, as well as understanding the costs to bring that dream to life is vital to getting the most out of your home renovation!
Basic vs. Custom Renovations
When it comes to basement renovations in Calgary, basic modifications such as painting walls, laying new flooring and adding light fixtures start from approximately $35-$60 per square foot. These are budget-friendly projects which can still bring notable value and functionality to a home.
Customized alterations like restructuring layouts, mounting partitions or custom details may cost more - around an average of $60 up to $100 each sqft. By taking the extra effort these personalized touches provide greater value with one's vision being brought into life through their unique renovation project for their Calgary basement space.
Specialty Rooms and Features
Renovating a basement can be expensive, especially when adding specialty rooms or features such as bathrooms and wet bars. On average in Calgary, installing a bathroom can cost anywhere from $8,000 to over $25,000 while setting up a wet bar ranges from about $2,000 to $30,000 depending on various factors like design complexity, materials used and, obviously, the size of the wet bar.
Developing a media or theatre room can vary greatly in price depending on many factors. Are you developing the space as a simple room? or will it include wired surround sound, custom lighting and media equipment, with enough tiered seating to invite all your friends? There are a lot of possibilities for custom spaces, and as such it can be difficult to accurately quote or provide a ballpark estimate when so many custom factors must be considered.
Despite the associated costs with renovating your basement, by being mindful of budgeting for those special additions you will create space that offers both enjoyment and value. Consider all aspects of your project carefully so it aligns with what is necessary, this way you ensure optimal outcome for minimal expenditure possible!
Planning Your Basement Renovation Budget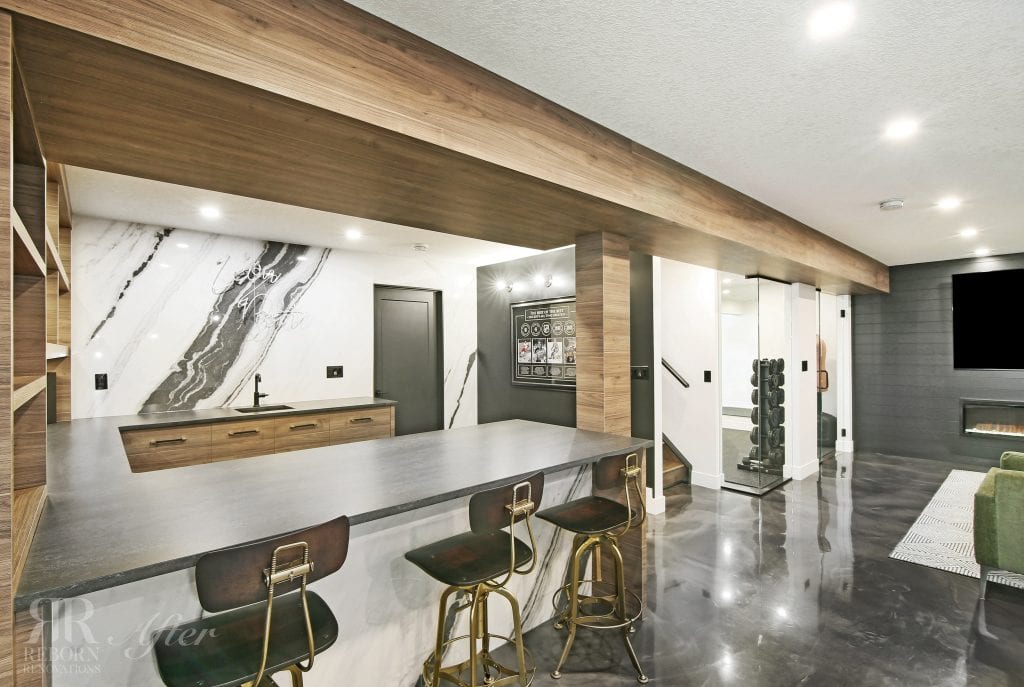 When planning a budget for your basement renovation, there are several steps to keep in mind. It is necessary to discuss the project with contractors and use online tools to get an approximate cost estimate of what it will involve. Being aware of all expenses related such as permits, taxes and any potential unforeseen charges that could arise must be factored into the overall plan. You should make wise decisions on scope of work, materials used and design features so that everything remains within budget while meeting expectations at completion time. By covering these bases thoroughly during preplanning stages, surprises can be kept minimal resulting in successful renovations according to individual preferences without draining funds!
Consultation with Contractors
Formulating a budget for your basement renovation project entails getting input from experienced contractors. This will help you to arrive at an accurate cost estimate of the task, factoring in labor costs and materials needed based on its scope. When you talk with professionals about your ideas, it can enable you to have insight into what potential expenses would arise while providing options that allow meeting those objectives but within financial limitations too. A reliable contractor who works collaboratively with you guarantees completing this job promptly. Ensuring it is economical as well as up to the standard desired by yourself. Experienced contractors have the knowledge and experience to accurately quote your basement development cost.
Online Calculators and Tools
For an effective budgeting of the basement renovation project, it is important to start by determining the area size in square feet. Using online calculators and tools for cost estimation can be a great time-saving technique when undertaking such a task, as well as helpful for comparing prices while keeping up with your spending limits. The calculator estimates are just rough figures, yet they provide most people with a good direction regarding planning ahead and making decisions accordingly.
To gain more reliable data related to costs involved in completing this remodel endeavor, professionals should be consulted along with asking multiple vendors about their quotes. After collecting all these useful pieces of information, you will have enough references at hand that could help shape up an appropriate budget suitable for what's planned when completing your basement development.
Choosing the Right Renovation Company in Calgary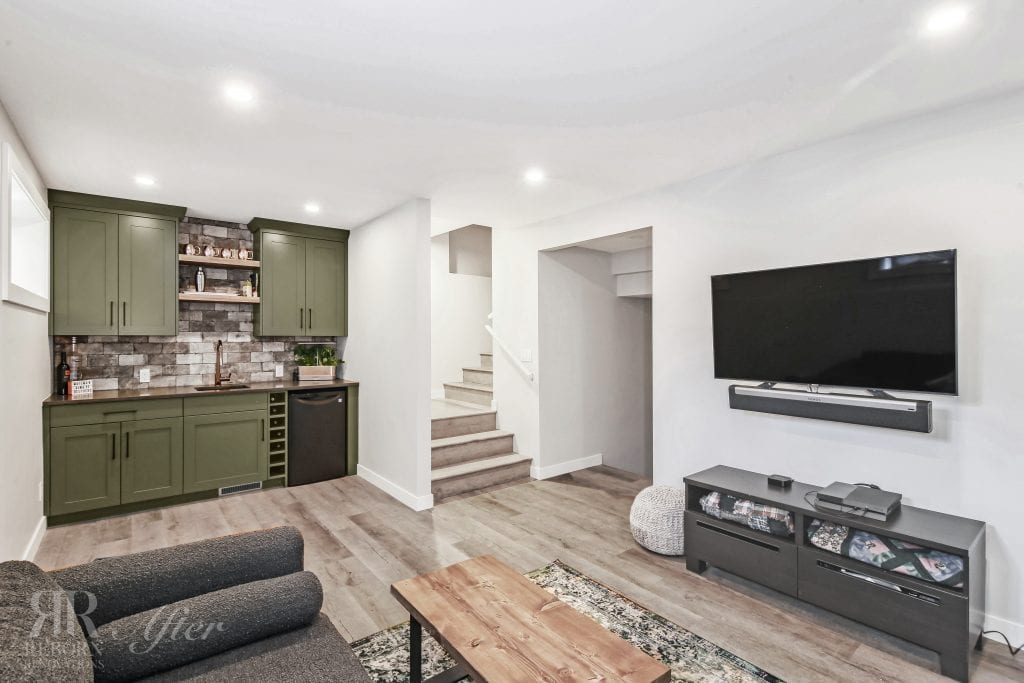 When searching for an appropriate renovation business in Calgary, it's important to study customer reviews and take into account any warranties or guarantees being provided. Due diligence is the first step when hiring and basement development contractor. Doing the necessary research ensures you pick a contractor that will provide satisfactory work quality as well as client satisfaction.
Securing reassurance through warrantees or guarantees is just as crucial. This way any problems post-renovation can be prevented with ease of mind if they were to occur. This promises quality work and gratification throughout the entire process until your basement development is complete.
Reviews and Testimonials
When looking for a quality renovation company in Calgary to tackle your basement development , it is important to find reviews and testimonials from previous clients. On the contractor's website as well as third-party websites like Angie's List or Google Reviews, you can look up past feedback. Online forums and social media groups related specifically to home renovations in Calgary may be helpful sources of insight on different contractors' workmanship.
The overall balance of opinions should be taken into consideration when reviewing comments from past clients. While negative remarks shouldn't immediately disqualify potential contractors either, they provide an opportunity for Research before making decisions about which one will bring the most value and service when working on your space transformation needs.
Spend a bit of time learning about each company. Do they have a well established process? unique designs and ideas? How long have they been in the constriction industry?
Guarantees and Warranties
When doing a basement renovation in Calgary, it is best to go with an experienced company that offers guarantees and warranties on their work. This provides protection for your investment by ensuring the quality of service meets agreed-upon standards. Such warranty usually ranges from two years up to five years depending on what type has been chosen. By having this assurance in place, you can rest easy knowing any potential issues or defects will be addressed by the contractor should they arise after completion of works.
Benefits of Basement Renovations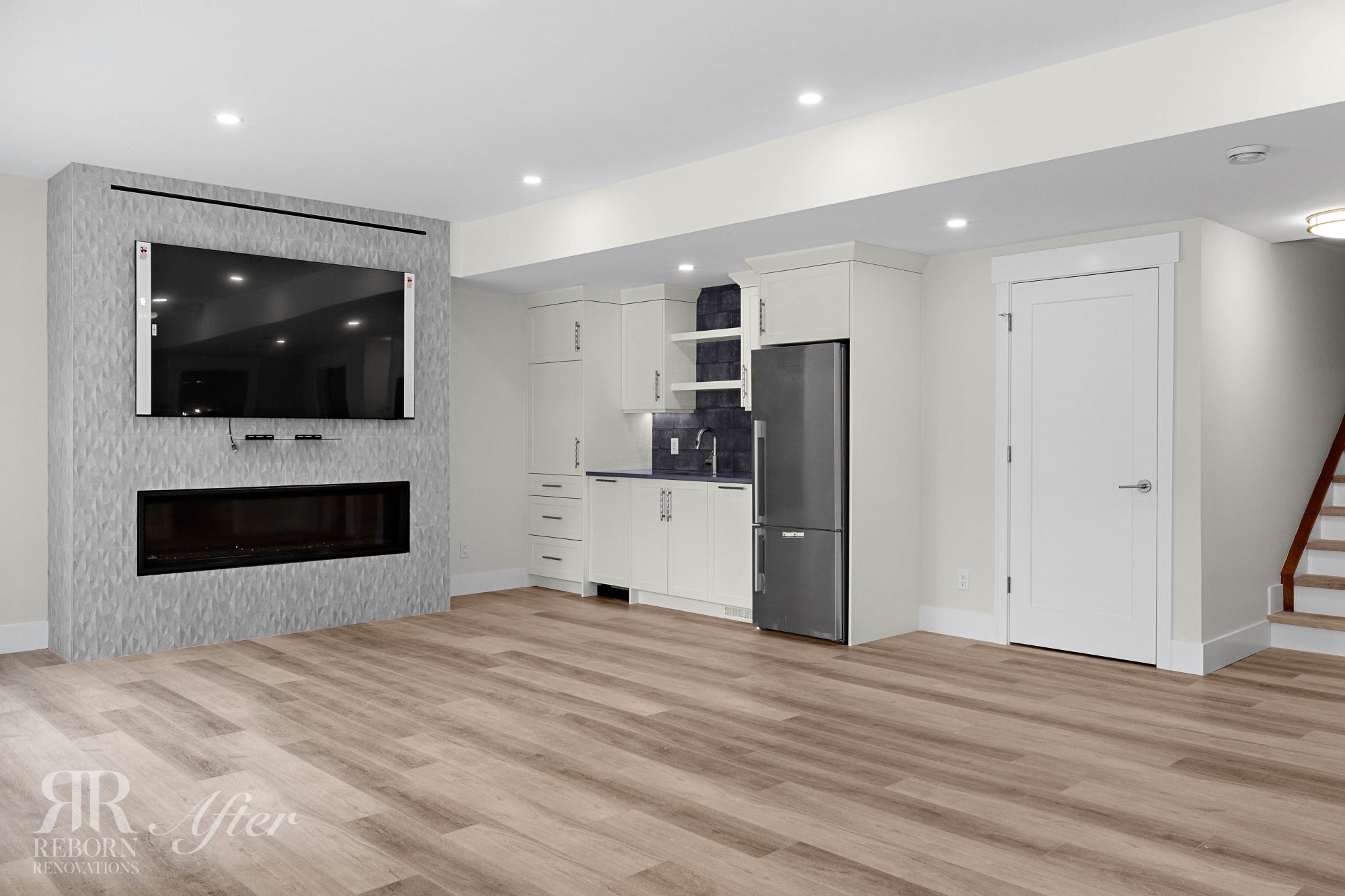 Basement renovations offer a myriad of advantages, from increased living space and raised property value to enhanced functionality. If you are wishing for additional bedrooms for your family members and friends or wish to make income by renting out the area, then making an investment to develop your Calgary basement could be worthwhile as it has a strong potential return on expenditure.
Adeptly planning projects and working with qualified professionals can help ensure you develop your basement into an entire floor that meets all of your needs.
Increased Living Space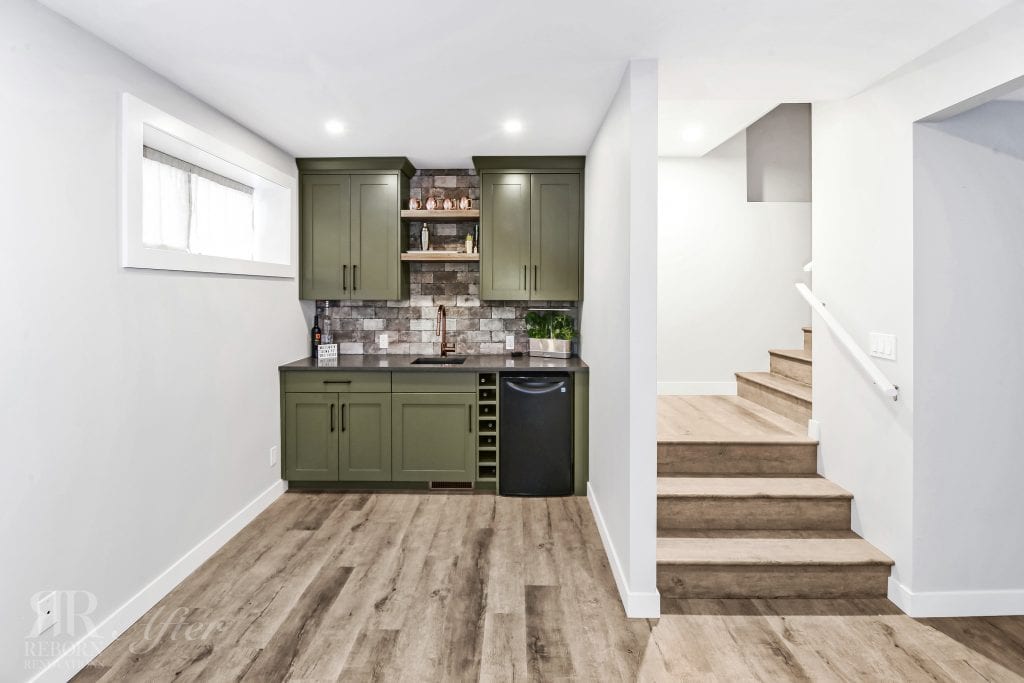 Renovating a basement can create more living space for your family, creating an environment where everyone will be at ease. With the right design plan, it is possible to make this typically underutilized or unfinished area into additional bedrooms or even its own legal dwelling. Providing extra room while potentially bringing in rental income.
Improved Home Value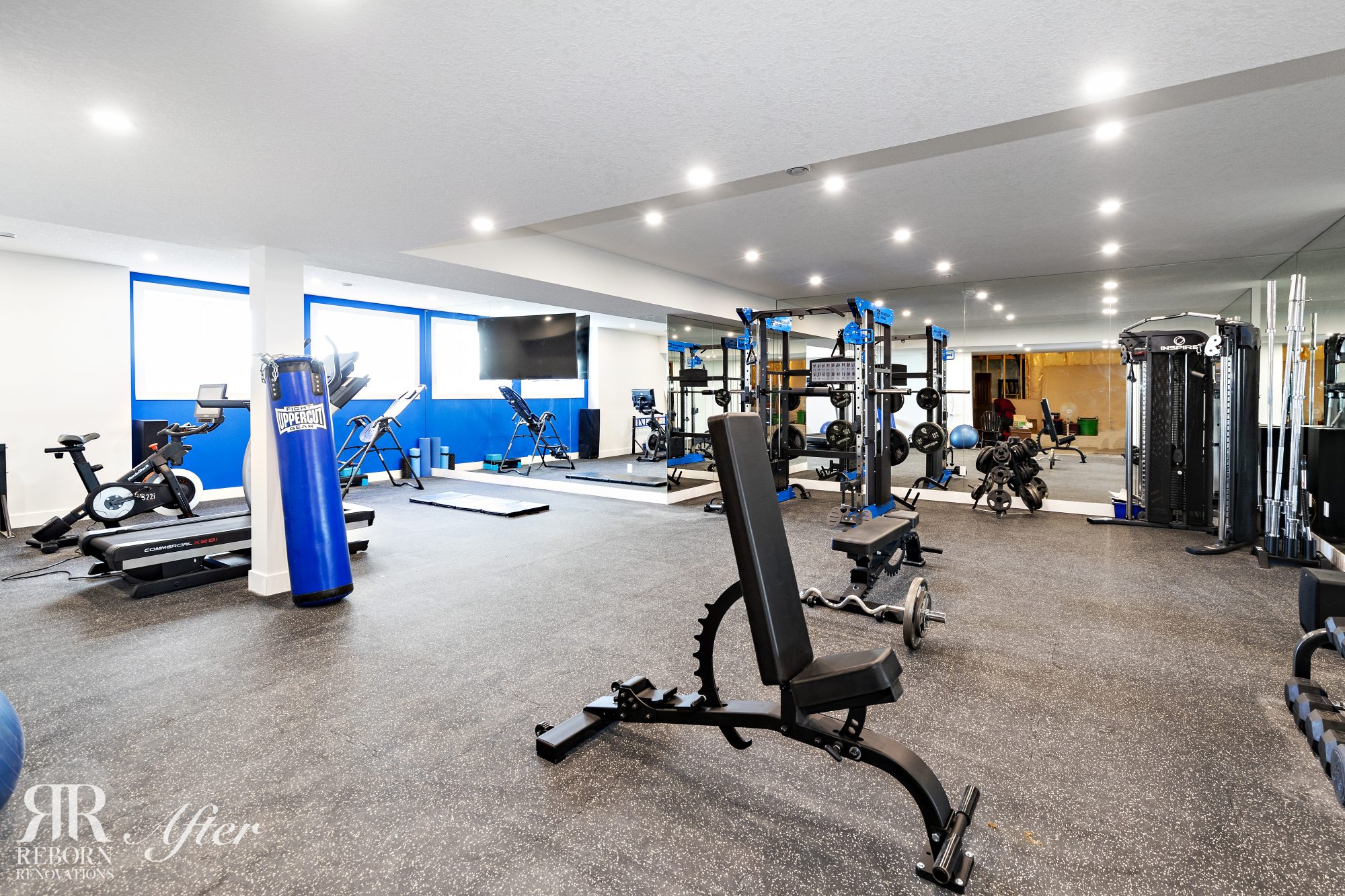 When it comes to adding value to your home, developing your basement is an excellent choice. Reports have indicated that renovating the lower level of your house could result in as much as 70% increase in its marketability and also make it more attractive for potential buyers looking for additional space or income sources. There are plenty of benefits apart from just increasing its worth. You can turn this area into something functional and beautiful which will offer great benefits not only now but even in the future when wanting to remain with the family at home.
Enhanced Functionality
When you plan to complete a basement renovation project and work with professionals, it can increase the versatility of your living space by adding extra rooms or storage. It is possible to create an enjoyable area for recreation, like a playroom for children, a home office that allows remote working possibilities, or even something cozier like a home theatre. All these renovations also help add value to the property as well as providing family entertainment options such as movie nights in their renovated spaces.
Summary
By taking into consideration the various elements that contribute to renovation costs, preparing your budget carefully and employing experienced specialists, basement renovations in Calgary can offer numerous advantages like extended living area, increased home value plus greater convenience. With a well-structured plan of action and proper implementation, you will have no problem turning this section of your residence into an invaluable extension which not only provides practical rewards but also results in a positive return on investment.
Frequently Asked Questions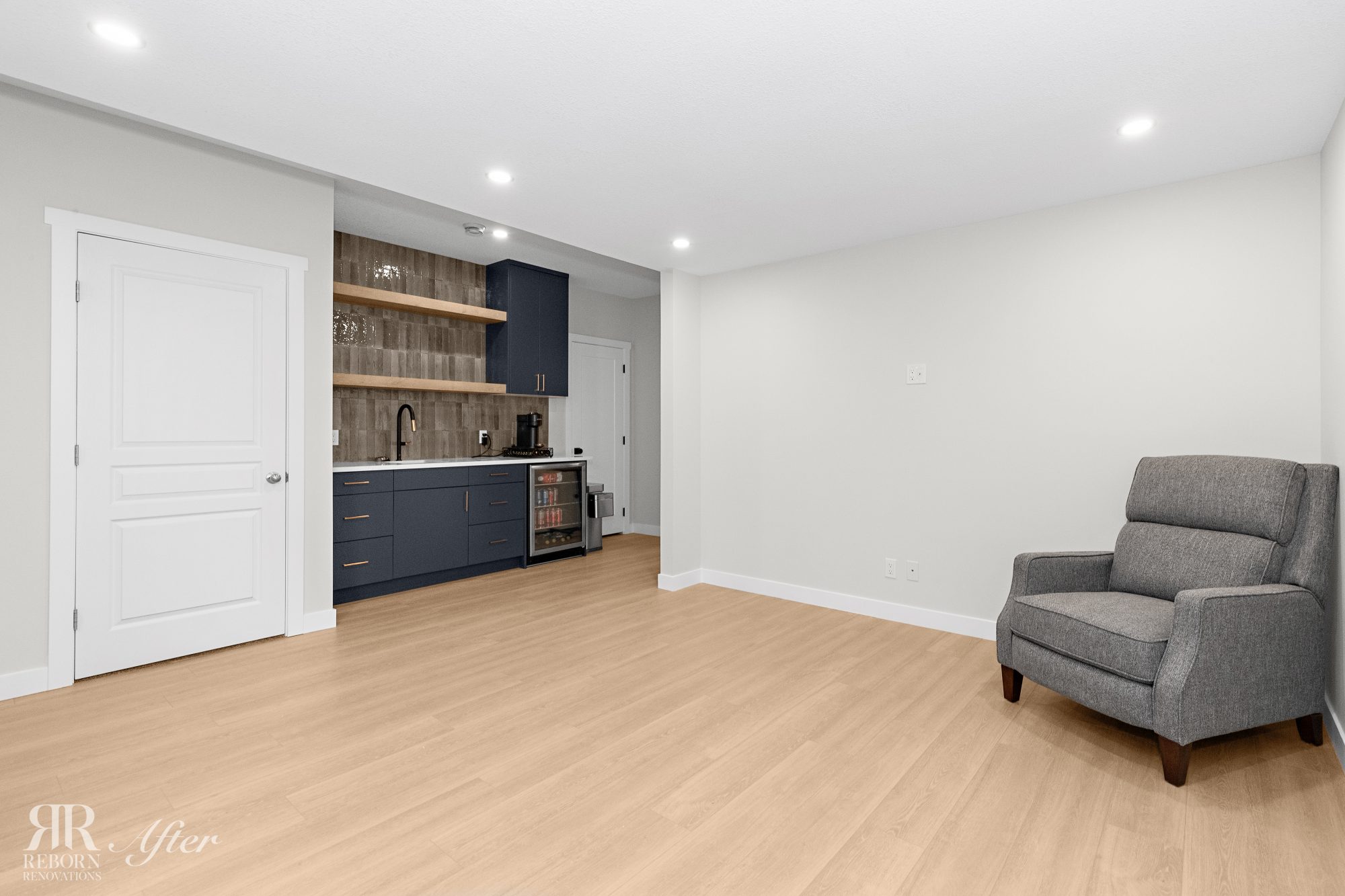 How much does a basement renovation cost in Calgary?
The typical cost for Calgary basement renovations lies between $40,000 for a simple basement development, and up to $125,000 or higher for additional upgrades. It could go up depending on the addition of a full bathroom, which may be anywhere from an extra 8-10 grand. The price for quality basement developments is not cheap. So if you are thinking about making changes to your basement keep these estimated figures in mind!
Do I need a permit to renovate my basement in Calgary?
When it comes to renovating a basement in Calgary, you need to obtain a Building Permit from the city first. This is true whether the lower level of your house is being developed for the first time or if structural alterations are required, such as shifting or removing walls.
What is the average cost per square foot for a basement renovation in Calgary?
In Calgary, the typical cost per square foot for a basement renovation ranges between $40 and $100, with an average price per square foot of roughly $50.
How can I determine a rough budget for my basement renovation project?
For an estimate of the cost involved in a basement renovation, homeowners should consult experienced contractors and explore online resources such as calculators and other budgeting tools. The project requires careful planning to create a successful outcome for your new or updated basement space.
What factors should I consider when choosing a renovation company in Calgary?
When considering a renovation company in Calgary, one should look into customer feedback to guarantee quality. Review warranties and guarantees for assurance of professional workmanship before making any decisions.