Kitchen renovation projects are one of the most popular home improvement projects, yielding a great return on investment when done properly.
Whether you want to improve the functionality of your kitchen or simply update its aesthetic style, a kitchen renovation can drastically transform the overall feel (and value) of your home.
So, how much does a kitchen renovation in Calgary cost?
On average, a kitchen renovation will range between $25,000 and $125,000, or about $125 - $375 per square foot.
If you're looking for a simple refresh and minor project, you're looking at roughly $25,000 to $35,000 to complete. This renovation would almost certainly see you keeping existing cabinets, installing laminate countertops vs natural stone or engineered surfaces, minimal to no layout changes, and finishing with more value minded selection when it comes to flooring, lighting, plumbing fixtures like faucets, and appliances. Sometimes this may be all you are looking to do during your kitchen remodel. You may be happy with your kitchen cabinets and their layout, so instead of adding more cabinets, or complete replacement to the cabinet boxes and other hardware, a repaint or cabinet refinishing to the door and drawer fronts is all you need. Your appliances may have a lot of life left in them yet, and you're not in need of an upgrade.
On the other hand, a newly built custom kitchen will cost significantly more, up to $125,000 (or possibly more) in 2023. This type of home renovation would accommodate for all new custom cabinetry, stone or engineered countertops, new appliances from designer lines, a new or expanded layout including structural work such as an open floor plan or moving walls to create a larger kitchen space, rerouting of plumbing and electrical, and high end lighting and plumbing finishes. The project scope on this type of home renovation project will often require multiple professionals, from interior design, to specialized trades, have a longer planning and design phase, as well as requiring architectural drawings should you need structural changes to the home.
If you're somewhere in the middle, looking to complete medium sized kitchen remodels with medium price point features, you should expect to pay between $50,000 and $80,000 on average.
There are so many factors that will determine the price of your kitchen remodel. In this article, we'll explore several of the common factors that drive up the cost of kitchen renovations in Calgary, Alberta, and provide tips for managing your budget.
Factors That Influence the Cost of Kitchen Renovations
1. Kitchen Size
It's a given that the size of your kitchen is one of the main factors that affect the average kitchen renovation cost. What will the square footage of this specific project be?
A larger kitchen requires more materials and labor, which can drive up the kitchen renovation costs. On the other hand, a smaller kitchen may have lower material costs but may still require specialized labor, which can also increase the overall cost.
2. Materials
The materials you choose for your kitchen renovations can also impact the overall costs.
High-end materials like granite or marble countertops, custom cabinets, and high-end appliances can significantly increase the cost of the project.
On the other hand, choosing more affordable materials like laminate countertops and stock cabinets can help keep costs down. If you're looking at new flooring installation, slightly lower priced material like LVP will have lower installation costs than a solid hardwood or laminate might.
If this is your forever home it might be worth the extra cost to spend a bit more upfront for the extra longevity and durability of the more expensive materials.
3. Labour Costs
Labour costs are another significant factor that can influence the overall cost of kitchen renovations.
In Calgary, the average hourly rate for a kitchen renovator is between $75 and $150, and depending on whether you are looking to have relatively minor work or major work done, you may also need specialized trades such as plumbing, HVAC, electrical. Or if you're going with a general contractor or one of Calgary's larger kitchen renovation companies, you'll also have costs for a project manager, interior designers, architect, and other specialties.
Labor costs may vary depending on the complexity of the project, the size of the kitchen, and the level of expertise required.
4. Scope of the Project
The scope of your kitchen renovation project can also impact the cost.
A relatively minor project that involves only replacing countertops or installing new cabinets may cost less than a complete overhaul of the kitchen layout, which may require moving plumbing or electrical systems. Additionally, if you're planning on expanding your kitchen by removing walls or building an addition, your project will require more labour and materials, and the overall cost will be much higher.
5. Location
The location of your home can also influence the kitchen renovation cost in Calgary. If your home is located in an upscale neighborhood, you'd likely want to invest more in high-end materials and finishes to match the surrounding homes. Additionally, if you live in an older or historic district, you may need to adhere to specific guidelines and regulations that could affect the cost of your remodel.
If you live in a further distance from the city and in the outskirts of the surrounding Calgary area, there may be additional costs for travel to and from the job site, as well as for the delivery of materials. Distance from the city also may limit your selection of contractors who can help you complete your project, as not every company may be willing to service jobs requiring a lengthy daily commute.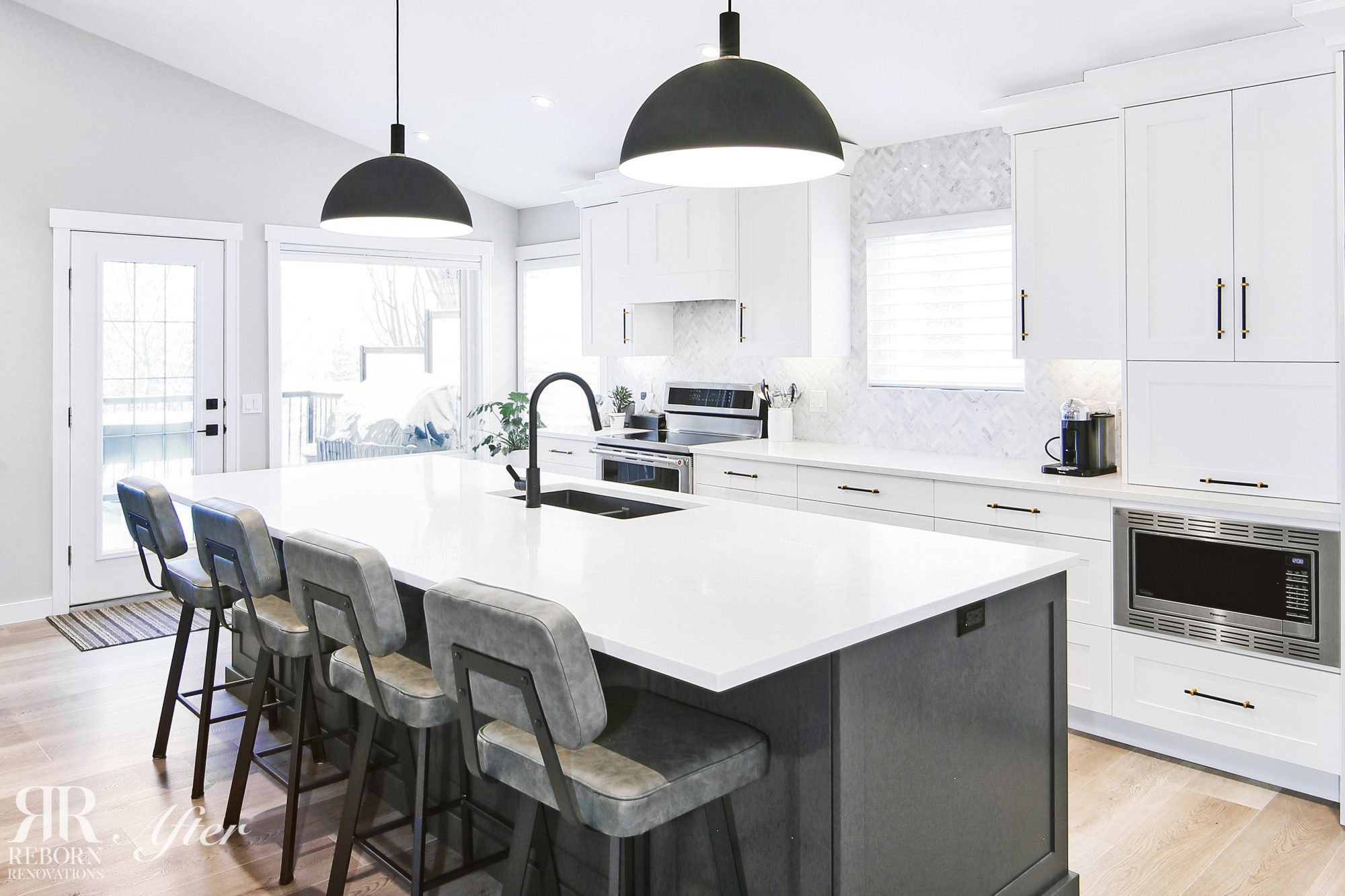 Average Prices for Kitchen Renovation Services in Calgary
The following table shows some average price points for different kitchen renovation services in Calgary, based on information from the Homestars website:
Service Average Price Range in Calgary
Custom Cabinets $10,000 - $30,000
Countertops $3,000 - $10,000
Flooring $2,000 - $5,000
Plumbing and Electrical $2,000 - $5,000
Appliances $5,000 - $10,000
Note that these prices are averages and may vary depending on the specific materials, labor, and scope of your project. There are also additional tasks and trades that will contribute to your renovation cost in Calgary.
Tips for Managing the Budget of Your Kitchen Renovation Project
Here are some tips for managing your kitchen renovation cost:
1. Set a Realistic Budget
Before you begin your kitchen renovation project, it's essential to set a realistic budget. Consider the factors that will impact the cost of the project, such as the size of your kitchen, the materials you want to use, and the scope of the project. Try to stick to your budget as much as possible to avoid overspending.
If you receive a quote for less than $20,000, be extremely wary. You'll likely find costs being added throughout the kitchen renovation project in order to achieve the desired outcome you initially expected. Quality kitchen remodels that will bring you a return on investment don't often come cheap.
2. Prioritize Your Renovation Goals
When planning your kitchen renovation, another big factor on the overall budget is ensuring that you prioritize your renovation goals.
Determine what various features and upgrades are most important to you, which of these are major costs, and focus on those first. For example, if you're a passionate cook, investing in high-end appliances may be a top priority. If you're more concerned with aesthetics, consider investing in new cabinets or stylish countertops. Prioritizing your goals can help you make informed decisions about where to invest your renovation budget.
3. Consider Alternative Materials
If you're working with a tight budget, consider alternative materials that can help you save money without sacrificing quality. For example, instead of installing expensive granite or marble countertops, you could opt for more affordable materials like quartz or laminate as more cost effective options. Similarly, as cabinetry is one of the determining how much kitchen renovations cost in Calgary, you could consider using pre-built or stock cabinets instead of custom-made cabinets to save on one of the biggest costs.
4. Plan for Unexpected Costs
No matter how well you plan your kitchen renovation, unexpected costs can arise. You'll never be certain what you'll find until you start opening up the walls in your home. Unexpected structural work can easily double some of the costs involved.
Make sure to set aside a contingency fund to cover any unforeseen expenses that may arise during the project. A good rule of thumb is to set aside at least 15% of your estimated total project cost for unexpected costs.
5. Work with a Reputable Contractor
Finally, working with a reputable contractor can help you manage your kitchen renovation budget. Spend time looking for contractors who have experience working on not only kitchen renovations, but specifically the type of kitchen remodel you are looking to complete. Look for a professional kitchen renovation company who are transparent about their pricing and fees.
Get multiple cost estimates and quotes from different kitchen renovation companies to compare prices and ensure you're getting an accurate cost estimate. Review the renovation contract and the small print, and make sure they aren't going to cut corners. Do they have insurance? Do they provide a warranty on their work like Reborn does? Check out this blog post to get an accurate idea on identifying good kitchen designers.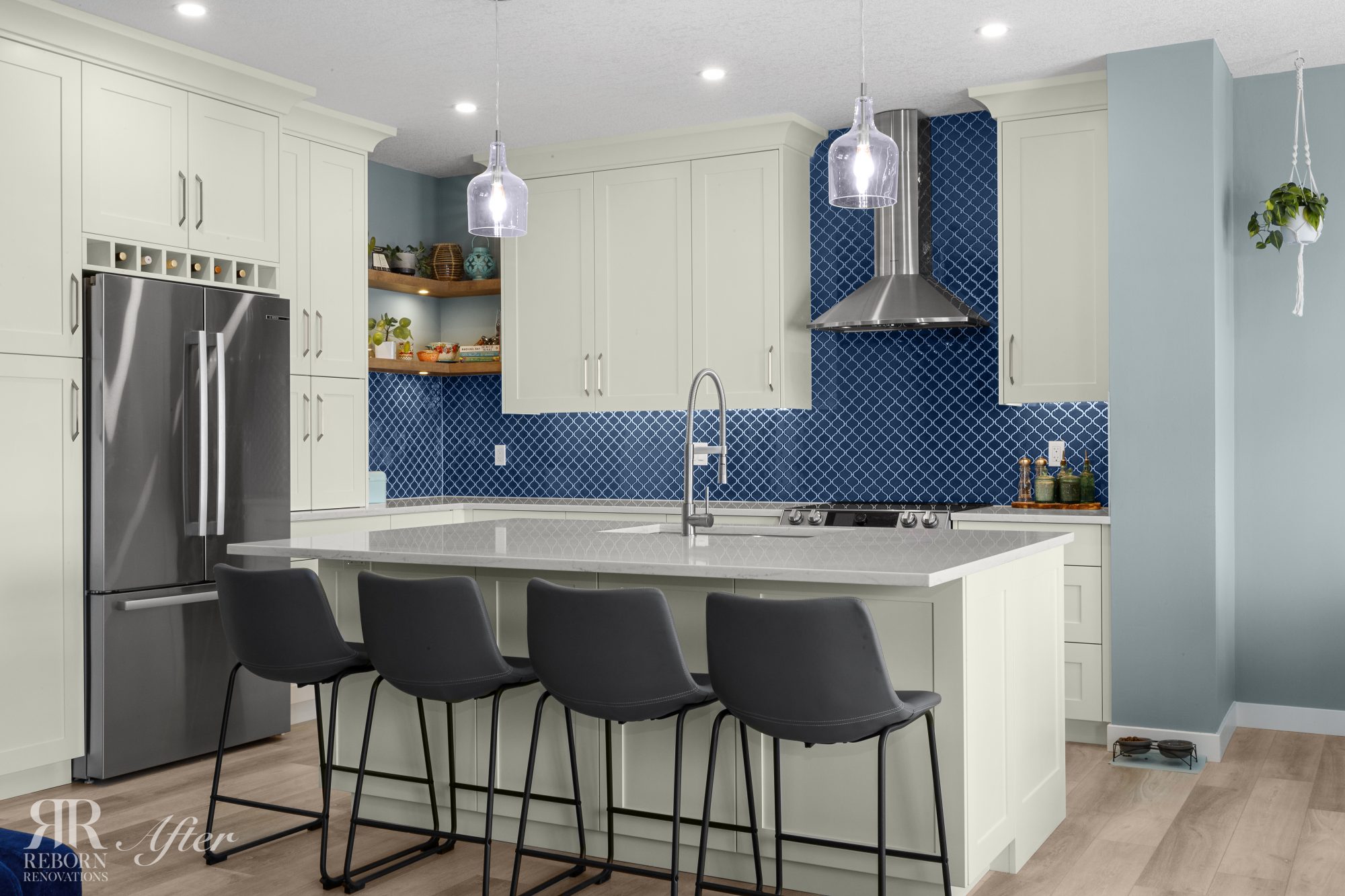 Conclusion
We hope this article has helped you in answering the question of "how much does a kitchen renovation cost in Calgary".
It's a significant investment that can transform your home and improve its value. However, the cost of a kitchen renovation can vary widely depending on several factors, including the size of your kitchen, the materials you choose, the scope of the project, your homes location, as well as any unforseen expenses that may arise. By understanding the factors that drive up the price of a kitchen remodel and following these tips for managing your budget, you can ensure your renovation project stays on track and within your budget.
As you can tell the cost of a kitchen renovation project can vary greatly, and unfortunately over the last several years we've only seen these numbers climb with inflation, rising material costs, increased demand, and supply chain disruption. With that said however, the cost of housing is also rising, and the ROI seen from home improvements are well worth it in 2023.
Reborn Renovations is a multiple award winning home renovation contractor serving Calgary and the surrounding areas. We work with you to bring life back into your home and bring your vision to life. Our dedicated team of interior designers, experienced trades and project managers will work with you to ensure that your project comes to life seamlessly. Our team guarantees our work with an industry leading 5 year warranty on all renovations, so you know your home is in good hands, and should anything happen that it will be made right. If you're looking to complete upgrades to your home in Calgary, Airdrie, Okotoks, Cochrane, Chestermere, Canmore, or anywhere else in southern Alberta in Calgary, don't hesitate to contact our team. We have a full design centre, custom showhome, in house cabinet shop and much more to help you improve your living space.